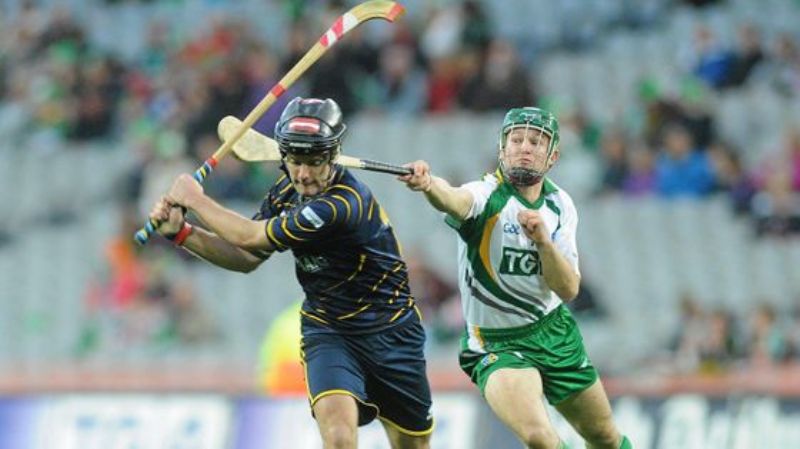 Congratulations to Neil Mc Manus on being selected on the Ireland Shinty Panel to play Scotland home and away.
The 2012 Hurling/Shinty International Series involving Ireland and Scotland takes place again this year at Senior and U21 level.

The Senior Series is played on a home and away basis and the opening game is due to take place in Bught Park, Inverness on Saturday, October 20. The second leg takes place in Ennis on October 27 and this will be preceded by the U21 game which is due to be played on Friday, October 19 at 7pm under lights in St.Joseph's Doora Barefield, Ennis.

These games will be the centre-piece of an Irish/Scottish weekend in Ennis which will also feature a concert in the Glór, with artists such as: SlanJ from Scotland, Thrillogy (featuring Kate Purcell and fiddle players Denise Glass and Yuki Nishioka) Chris Dorney (legendary concertina player) Stephanie Keane (Irish Sean Nós Dancer) and the Coughlans. Scotland and Ireland will also promote a Youth Exchange Programme and will organise Music and Cultural Workshops over both weekends.

In addition, the President of Ireland – Michael D. Higgins will officiate at the opening of Fr. McNamara Park, now Camogie HQ for Clare, based in Ennis – and the Clare Camogie Team will play their Scottish counterparts in a Camogie/Shinty International on Saturday October 27 at 11am.

The Irish Hurling/Shinty Senior Team is managed by John Meyler (Cork) and Michael Walshe (Kilkenny) with Gregory O'Kane (Antrim) and Jeffrey Lynskey (Galway) looking after the U21 team.
Teams are selected on the basis of two trial games and every effort is made to provide representation to the developing counties while also providing these players with the opportunity to play alongside a small group of players drawn from Tier 1 counties.
Both Senior Games will be transmitted live by TG4 at the following times;
October 20 - 1.15pm
October 27 – 2.05pm
For further information visit
http://www.hurlingshinty.gaa.ie/
HURLING/SHINTY INTERNATIONAL 2012 SENIOR PANEL
Bernard Rochford (Kerry)
Joseph Clarke (Westmeath)
Ciarán Clifford (Armagh)
Steven Clynch (Meath)
Shane Dooley (Offaly)
Cormac Donnelly (Antrim)
Shane Fennell (Louth)
Patrick Horgan (Cork)
Neil McManus (Antrim)
Barry McFall (Antrim)
Tom Murnane (Kerry)
Brendan Murtagh (Westmeath)
Darragh O'Connell (Kerry)
Shane O'Neill (Cork)
Eoin Price (captain, Westmeath)
Paudie Reidy (Kildare)
Des Shaw (Carlow)
Tommy Walsh (Kilkenny)

U21 PANEL
Ronan McAteer (Monaghan)
Conor Corvan (Armagh)
Kevin Downes (Limerick)
Patrick Flynn (Laois)
Tony Kelly (Clare)
Niall Kilroy (Roscommon)
James King (Armagh)
Seadna Morey (Clare)
Stephen Morris (Meath)
Conal Morgan (Antrim)
Shane Nolan (captain, Kerry)
Niall O'Brien (Westmeath)
Paul O'Grady (Mayo)
Morgan Quinn (Leitrim)
Jamie Ryan (Galway)
James Toher (Meath)
Nathan Unwin (Laois)
Ollie Walsh (Kilkenny)