2010 - 2019
The beginning of the decade turned up a first for Ruairí Óg when we won our first ever Ulster Minor Hurling Championship. This topped off a fantastic year in which our minor team went unbeaten. This feat of winning both Antrim and Ulster Minor Hurling Championship was repeated again in 2013.
Our goal is to make
buying a fine replica watch
as easy as possible.
We offer high-end replica watches in a wide range of styles. You can
buy high-end replica Rolex watches
of high quality at a discount.
A fifteen year gap was overcome in 2014 when we won the U21 Hurling Championship for the first time since 1999: the second in our history.
Our Senior success was relatively modest throughout the beginning of the decade. We won various titles in the Senior Reserve Cup (2013), Senior Reserve League (2012, 2013, 2014, 2015), the Senior Hurling League (2012), however a return to Senior Hurling Championship glory eluded us. It would be six years after our 2008 win over Loughgiel before we could bring The Volunteer Cup back to Cushendall.
With an exciting semi-final win over Loughgiel, we set up a final appearance against St Galls in Ballycastle. In a fairly timid exchange Ruairí Óg came out victorious, winning their 12th Antrim SHC. Our All Ireland quest would have to wait although, as a strong Portaferry team were too much for us in the Ulster Final.
2015 would be different though. An incredible championship which in which Ruairí Óg came from behind in every game to win was topped off by overcoming a 9 point half-time deficit against Ballycastle to win SHC number 13! Winning Ulster was the next step when extra time was needed to separate ourselves and Slaughtneil.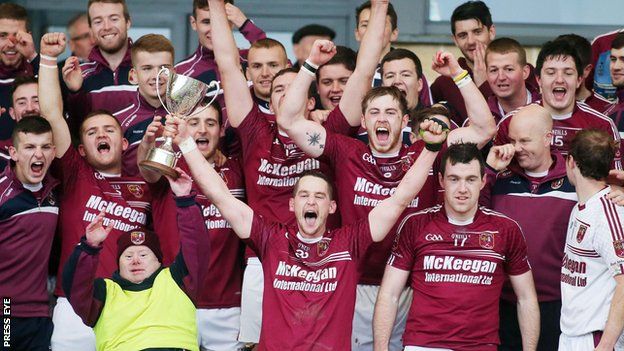 An All-Ireland Semi Final appearance was next and unlike the 9 appearances before this, returning to Cushendall without a win wasn't part of the script. Sarsfields had surprised their own county when they won the Galway Senior Hurling Championship but they were still fancied as big favourites on 6th February 2016 in Pairc Tailteann in Navan. Ruairí Óg didn't fall foul of their habit of the championship and for the first time in the campaign, led at the break by two points. Second half goals from Sean McAfee and Karl McKeegan increased that lead and the game finished with a convincing 3.12 to 1.6 victory in favour of the underdogs!
The 17th March in Croke Park is any club hurler's dream. For the first time in history, that dream had come true for Ruairí Óg, Cushendall. Going up against a formidable Na Pairsaigh team from Limerick, who had been knocking on the final door for a number of year, was never going to be an easy task. That turned out to be true and a bit more, when a very classy Na Pairsaigh team came out as All Ireland Club winners on the back of a 2.25 to 2.14 win.