History
Ruairí Óg CLG is located in the parish of Cushendall in North Antrim in the famous Glens of Antrim and was formed in the early 1900s. Hurling has been played in the Cushendall area from an early age and on an organised basis from about 1906. The well known gaelic song Ard ti Chuain, a townland near Cushendun, dating from the early 18th century refers to playing of hurling in the Glens. The first clubs formed in the Glens were Faughs of Carey and St Joseph's of Glenarm while the Cushendall club dates from 1906.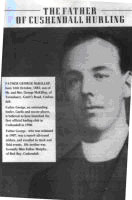 The first official club in Cushendall was founded by Father George McKillop, an outstanding hurler, gaelic footballer and soccer player. During this period the CLG in Cushendall played both Hurling and Gaelic Football but in the 1920s emigration of several prominent players to New York and the defection of others to the nearby clubs of Cushendun Emmetts and Ossians Glenarriffe lead to the break-up of the club. Despite this Cushendall hurlers found success: six Cushendall men were part of the Emmetts team which won Cushendun's first and so far only Antrim Senior Hurling Championship in 1931 when thay beat the mighty O'Connell's of Belfast. Those players were John Gore, Denis McKeegan, John McNaughton, James McAlister, Neil Delargy and Alex Delargy whose two sons John and Malachy were on the first Ruairí Óg team to win the same championship 50 years later.
Cushendall men also contributed to championship wins in 1935 and 1937 by Glenarriffe Ossians and it was not uncommom for Cushendall players to move with bewildering frequency between Glenariffe and Cushendun.