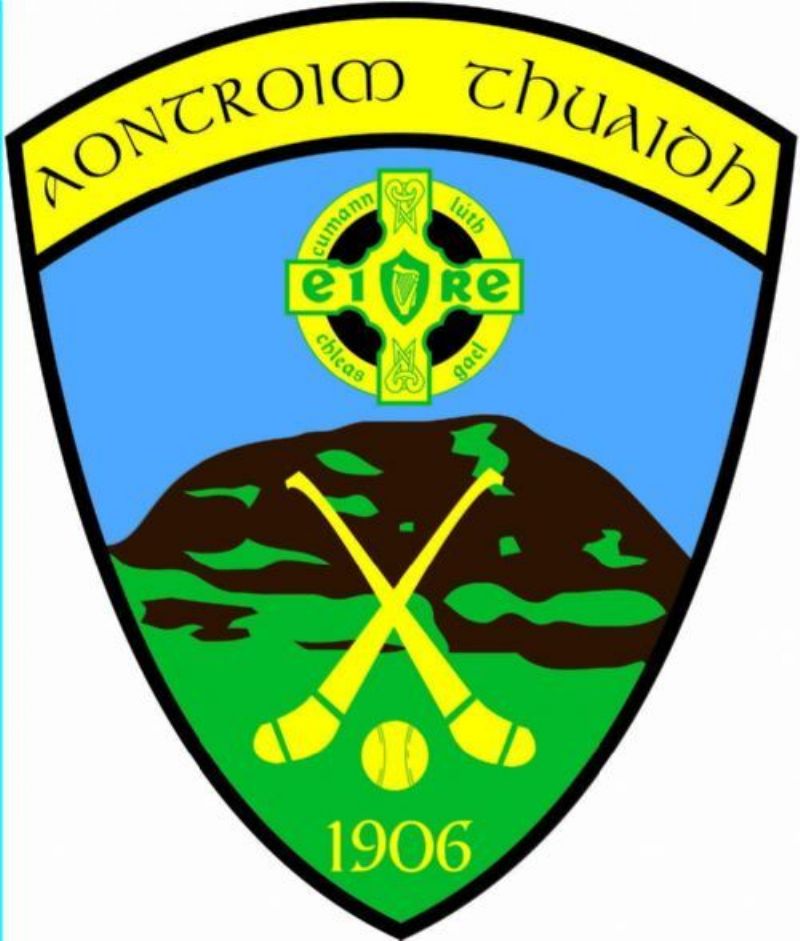 McMullan Cup Semi Final – 18/06/12
Loughgiel Shamrocks v Ruairi Og Cushendall
Ruairi Og Corner Forward Paddy Doherty raised the 1st white flag off the day when he won possession, burst past his man and hammered over a great score.
Christy McNaughton then landed 2 points from dead balls from 30 yards either side of a missed 21 yard free to put the 'Dall 3 up after 10 minutes. Loughgiel got their 1st scores of the day through Conor Christie and OD Laverty. Niall McNaughton then broke through Loughgiels defence and was brought down and Christy McNaughton buried the penalty to give the 'Dall a 4 point cushion.
Ryan McKee and Cathal McMullan added a point a piece for the Shamrocks but that man Christy McNaughton added another free for the 'Dall. James McNaughton got another score for Loughgiel and again Christy McNaughton pointed another dead ball for the Ruairi Og's but right on the stroke of half time Ryan McKee raised a green flag for the shamrocks to leave the half time score:
Loughgiel Shamrocks 1-05 Ruairi Og Cushendall 1-06
Loughgiel got the 1st score of the half through Conor Christie. Christy McNaughton added a point from play to put the 'Dall up by point and when OD Laverty squared the match it was all to play for. Christy McNaughton lashed over a free, Michael Delargy picked up a pass from Paddy Doherty and fired a rocket into the top right corner of the net to put Ruairi Og up by 4.
Christy McNaughton then scored another cracking point from play and when Paddy Doherty added another, Cushendall were stretching away. Pearse Bannon then got fouled and Christy McNaughton fired the 21 yard free into the bottom corner of the net.
Conor Christie stopped the rot when he fired over a point but Cushendall came back up the field and Christy McNaughton gathered possession and beat 2 men and fired in a wonderful goal and it was game over. Ruairi Kinney fired over a point for the 'Dall, Christy McNaughton added another goal after a neat bit of skill, Ryan McKee added Loughgiels final point of the day, Pearse Bannon added a point and there was still time for that man McNaughton to score the final point of the day to leave the final score:
Loughgiel Shamrocks 1-09 Ruairi Og Cushendall 5-13
Emmett Laverty was assured in goals and in front of him, Stephen Walsh, Fergus McCambridge and Cormac McClafferty were strong in defence. Joe McCurry and Ryan Delargy battled well in midfield and up front Conor Magee, Ruairi Kinney, Paddy Doherty, Pearse Bannon and Scoring Machine Christy McNaughton were good but man of the match goes to Paddy Sharpe. He got over the recent blip in his performances in spectacular fashion and never gave an inch to anybody that he marked.
Team:
1. Emmett Laverty 2. Seamus McAuley 3. Stephen Walsh© 4. James Allen 5. Fergus McCambridge 6. Cormac McClafferty 7. Paddy Sharpe 8. Joe McCurry 9. Ryan Delargy 10. Pearse Bannon (0-01) 11. Ruairi Kinney (0-01) 12. Niall McNaughton 13. Conor Magee 14. Christy McNaughton (4-09) 15. Paddy Doherty (0-02)
Subs used: Michael Delargy (1-00), Raymond Burns, Jack McAlister and James McLaughlin
Euro 2012 Predictors 2nd Round Scores:
1. Eamon McNally - 35pts
2. Paddy Doherty - 34pts
3. Conor McKay - 32pts
4. Maggie Delargy - 31pts
5. Colin McKeegan, Chris Dornan 1, Neil McManus - 29pts
6. Brian McVeigh, Mark Kearney, Ronan Kearney- 27pts
7. Marty Burke, Andrew Delargy, Ali McCambridge, Ed McCambridge - 26pts
8. Ciaran Mort, Colum Gribben, Henry McAlister - 25pts
9. Patrick Irvine, James McAuley, Donagh McNaughton, John Dornan, Eamon Gillan - 24pts
10. Eoghan Allen, 'Big' Mick McKillop, Eoin Magee - 23pts
11. Karl McKeegan, Pat Emerson, Seamus McAuley 1, Liam McKillop, Seamus McAuley 2 - 22pts
12. Maureen McNaughton 1, Maureen McNaughton 2, Ryan Cochrane, Paddy Sharpe Jr, Paul Daly - 21pts
13. Kevin Allen, Martin McClafferty, Josie Delargy, Cathal McDonnell, Una Allen, Jamie Lismore, Tanya Doherty - 20pts
14. Michelle McNaughton, Ryan McAlister, Eoin Gillan, Patrick McCambridge, Pearse McGaughey - 19pts
15. Liam McKillop, Jack McAlister, Stephen Walsh, Check Magee, Conor Magee, Anna McKee, Aaron Grey, M Delargy, Ciaran Emerson, Patrick McCollum, Sianagh Emerson, D Dempsey, J & E McAlister, Daniel McAlister 1, Mark McCambridge, Jason Harris, Joe McKee, Gerard McAlister - 18pts
16. Conor McCambridge, Stephen McKeegan, Ciaran Kearney, B Sharpe, Darren Webb, Niall McCambridge, Michelle Doherty, Aidan McNaughton - 17pts
17. Ray Cochrane, John McKillop, Aidan Finnerty, Paddy McKillop, Anne Burke, Cahir McNaughton - 16pts
18. Oliver Mort, Paddy McNaughton, Chris Dornan 2 - 15pts
19. Peter McCrory, Ryan McNaughton, Michael Delargy, Paddy Sharpe Sr - 14pts
20. Niall Kearney, Mark Doherty, Ruairi McAuley 1 - 13pts
21. Seamus McDonnell, Cormac Burke, Liam Gillan, Paul Mitchell, Cahal McAuley, Amelia McKillop 12pts
22. Niall Cochrane, Daryl McNeill, Ruairi McAuley 2, Daniel mcAlister 2 - 11pts
23. Mary Gleeson, Briege McNaughton, Ruairi Sharpe, James McLaughlin, Caoimhe Delargy -10pts
24. John Walsh, Francis McCurry, Margaret Anne McKillop - 9pts
25. Cormac McClafferty - 6pts