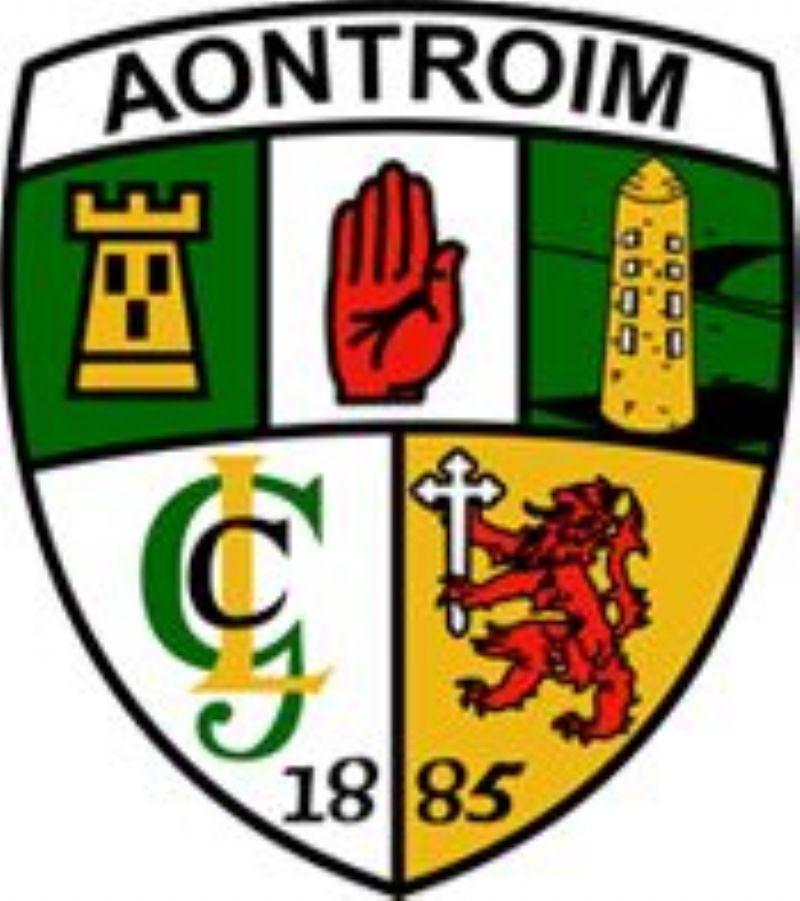 U 21 Hurling Championship Semi Final
Saturday 2nd of June 2012
Ruairi Og v St. Kevin's
Ruairi Og started the game brightly, Eoin Laverty registered the first score with a well taken point. On six minutes Ronan Mc Grady won possession and sent a high ball in to Dominic Delargy who's deft overhead flick nestled in the bottom left hand corner of the net to give Cushendall the perfect start. St. Kevin's got on the board in the tenth minute with a point from play but Ruairi Og were playing some great hurling, Eoin Laverty pointed a free and then Dominic Delargy plucked a high ball out of the sky and set up Ronan Mc Grady who pointed from distance. Michael Devlin converted a couple of chances for St. Kevin's but again Ruairi Og put their foot on the gas, Ryan Mc Cambridge played a neat 1-2 with Dominic Delargy and fired over from a tight angle. Eoin Laverty converted a free and Mark Donaghy tagged over a super point from play after Dominic Delargy had robbed possession from his marker. James Black cut in from the left wing for a point to stop the rot for St. Kevin's but Eoin Laverty converted a 65' and Ryan Mc Cambridge and Ronan Mc Grady fired over a point a piece for Cushendall. Michael Devlin tapped over a free for St. Kevin's but Ruairi Og were giving a scintillating first half performance and they finished strongly, Ryan Mc Cambridge got his third point of the half, Mark Donaghy added another and just as half time approached Dominic Delargy again caught a high ball and lashed over the final point of the half to leave the scores at the break Ruairi Og 1-12 St. Kevin's 0-5.
Any thoughts Cushendall had that the game was over were quickly put to bed. St. Kevin's started the half with all guns blazing, in the opening fifteen minutes they scored 1-3 without reply, the goal coming from a booming Michael Devlin free to really put the result back in doubt. However credit to Cushendall they never panicked. Eoin Laverty began the response with a point from the left hand side and Ronan Mc Grady converted his third of the game to put some daylight back between the teams. James Black pointed for St. Kevin's but this proved to be their final score of the game. Again Ruairi Og upped the tempo, Dominic Delargy set up Eoin Laverty for a point and then Dominic went from provider to scorer, he drifted from his full forward birth and fired over two superb points in a row from the middle of the park. The final score of the game came from Eoin Laverty who converted a free after Alex Delargy had been fouled to leave the final score Ruairi Og 1-18 St. Kevin's 1-9.
How they played: Cushendall dominated the game with the exception of the opening stages of the second half. In goals Conor Mc Alister had little to do, in front of him Shea Mc Naughton, Conor Grant and Paddy Burke gave strong performances. Paddy Mc Naughton put in a strong shift in midfield and up front Ryan Mc Cambridge, Ronan Mc Grady, Mark Donaghy and Eoin Laverty were all dangerous however my man of the match goes to Dominic Delargy who gave an absolute exhibition at full forward. He was involved in everything that was good about Cushendall's play. He scored 1-3 himself and also set up several other scores with intelligent play but the most pleasing thing about his performance was his willingness to chase, tackle and work for the team.
1. Conor Mc Alister 2. Dan Kinney 3. Shea Mc Naughton 4. Conor Grant 5. Sean Mc Killop 6. Paddy Burke 7. Paddy Blaney 8. Paddy Mc Naughton 9. Eoghan Campbell 10. Mark Donaghy(0-2) 11. Ronan Mc Grady(0-3) 12. Ryan Mc Cambridge(0-3) 13. Eoin Laverty(0-7) 14. Dominic Delargy(1-3) 15. Andrew Delargy
Subs used: Alex Delargy, Cormac Mc Alister, David Kearney