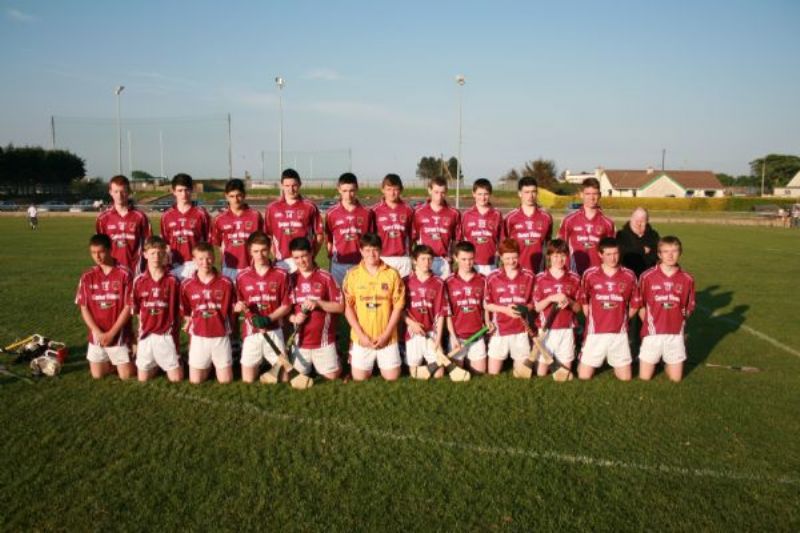 U16 McMullan Cup Quarter Final
Ruairi Og Cushendall v St Endas (28/05/12)
Cushendall started this match on the front foot and Christy McNaughton raised a green flag with a neatly taken goal. From the resulting poc out, Ruairi Kinney won possession and played a nice pass into Christy McNaughton whos goalbound effort was saved and corner forward Jack McAlister was on hand to lash the ball into the roof of the net to put Ruairi Og 6 points up. Christy McNaughton then banged in another goal and St Endas were in disarray. Conor Magee flighted over a great point and Centre Half Cormac McClafferty flighted over a 70 yard free to leave Cushendall 11 up after 13 minutes.
Jack McAlister split the uprights with a great point, then that Man Christy McNaughton added a classy goal after beating 3 defenders and lobbing the keeper from a tight angle. Conor Magee then added another point, Christy McNaughton then added 2 more points on the spin and St Endas were out on their feet.
Ryan Delargy was the next player to get on the scoresheet when he collected a crossfield ball from Christy McNaughton and from 25 yards, buried the ball into the bottom left corner. Their was just time for Christy McNaughton to flight over a free to leave the half time score:
Ruairi Og 5-07
St Endas 0-00
The 2nd half started the way the 1st ended with Cushendall making all the running. Cormac McClafferty gathered possession in midfield and went on a rampaging run and ended up burying the ball into the back of the net for a fine individual goal. Christy McNaughton flighted over a point, Pearse Bannon added a point as well. St Endas then scored their 1st point of the match when tenacious midfielder Owen Conan lashed over a point. Christy McNaughton then took his last point of the game as he was replaced by James McLaughlin.
The match started to turn into a scrappy affair with a lot of disjointed play. Jack McAlister took over free taking duties and lashed over an impressive point from 30 yards out on the right wing. Owen Conan got his and St Endas 2nd point of the game after another strong run and he then added a goal as well and then Jack McAlister flighted over the bar the final set piece to leave the full time score:
Ruairi Og 6-12
St Endas 1-02
Man Of the Match
There was quite a few contenders for man of the match today. In defence Paddy Sharpe, Joe McCurry and Fergus McCambridge were excellent. Up front, Conor Magee, Christy McNaughton and Michael Delargy were very good, but man of the match is split between 2 players today. Stephen Walsh was a colossus in Full Back, he caught at least a dozen high balls over the hour and Jack McAlister who linked well in attack and was lively throughout.
Ruairi Og
1. Paddy Doherty 2. Fergus McCambridge 3. Stephen Walsh 4. Seamus McAuley 5. Paddy Sharpe 6. Cormac McClafferty (1-01) 7.Joe McCurry 8. Niall McNaughton 9. Ryan Delargy (1-00) 10. Pearse Bannon (0-01) 11. Ruairi Kinney 12. Conor Magee (0-02) 13. Jack McAlister (1-03) 14. Christy McNaughton (3-05) 15. Michael Delargy
Subs Used: James Allen, James McLaughlin, Raymond Burns, Cathal McDonnell and Liam Gillan.