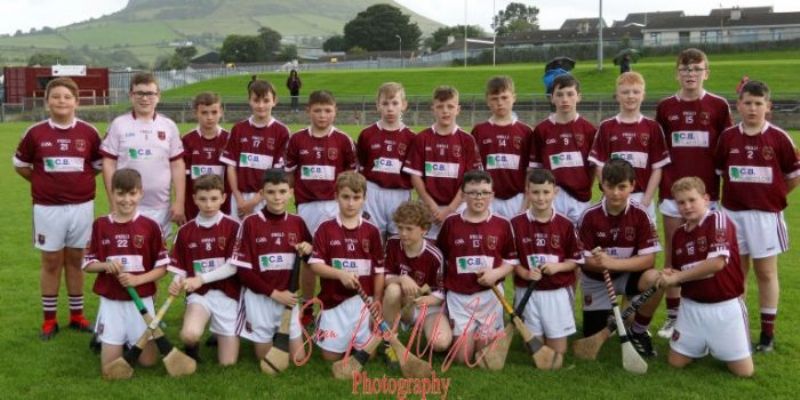 Young Ruairis power into semi-finals
North Antrim U12 Championship
Cushendall 7-5 Ballycastle 0-2
Cushendall turned in a powerful display of hurling when beating Ballycastle in the quarter final of the North Antrim Under 12 Hurling Championship at Pairc Mhuire on Monday evening. When these two side met two years ago at Under 10 there was little to choose between them but this time around Cushendall were dominant.
They took the lead in the opening minute with a Thomas McLaughlin goal and though Ballycastle came back with two points from Darragh Donnelly in the 3rd and 5th minutes it was clear the home team were well on top. Their second goal came on six minute with an excellent strike from Oran McCambridge, the first of four the right corner forward would grab during the game.
Centre half back Fintan McKillop added a point in the seventh minute before McCambridge got his second goal two minutes later. Fintan McKillop then added a point from a 45 before Cahir McCambridge got his team's fourth goal just before the half time whistle.
The second half followed a similar pattern despite the great efforts of the visitors by Conor and Darragh Donnelly but Cushendall were on fire all over the field. Thomas McLaughlin started the second half scoring with a point before Oran McCambridge grabbed two goals in as many minutes. Cahir McCambridge chipped in with another point before Thomas McLaughlin wrapped it all up with his team;s seventh goal.
Cushendall – Liam Magee, Ryan McAuley, Conor McCann. Alex McAlister, Alex McCambridge, Fintan McKillop, Aidan Campbell, Dylan McNaughton, Callagh Mooney, Charlie McAllister, Fintan Bradley, Nicholas McLaughlin, Cahir McCambridge, Thomas McLaughlin, Oran McCambridge.
Ballycastle – Ruairi McShane, Tiernan Staunton, Adam Hughes, Fionn McGaughey, Fionnann Duffin, Niall McClean, Patrick McCaughan, Conor Donnelly, Dara Donnelly, Luke Connolly, Caodhan Crawford.
Referee – Malachy Leech (Oisins)

Thank you to the Saffron Gael for the report and SP Mc Killop for the photographs - to see more photos click on the following link: http://www.ruairiog.com/gallery/u12hcvbcastle-307