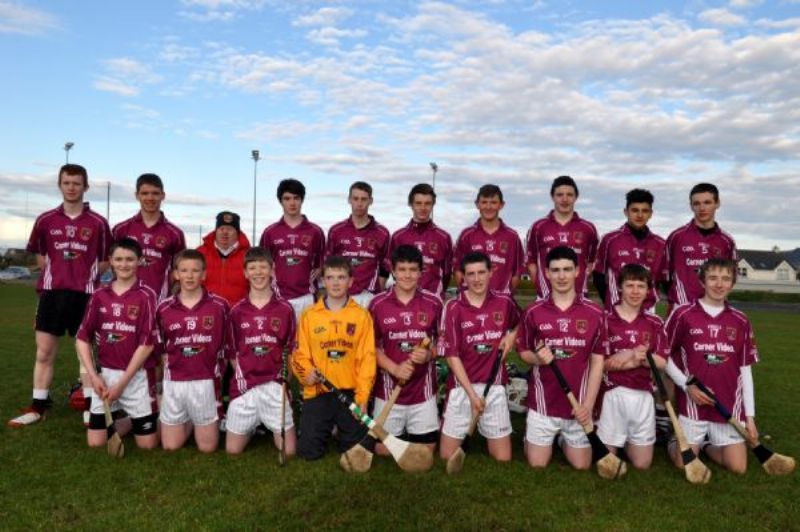 Last night (Monday) our U-16's continued their fine form this season with a fabulous 5-8 to 1-10 victory over Rossa to maintain their unbeaten start to the campaign. Well done to all involved. Photos from the game are available to view in the gallery section.
N Antrim League
Ruairi Og Cushendall v O'Donovan Rossa
Cushendall started the match in great fashion, Christy McNaughton firing over a point, Jack McAlister raising a green flag after a goalmouth scramble and Cormac McClafferty lofting over a point from Centre Back.
Rossa knocked over a couple of points to keep them ticking over, but Pearse Bannon scored a great goal for the young Ruairi's and Christy McNaughton fired an unstoppable shot into the bottom right corner and Cushendalls tails were up.
Rossa to their credit kept working but due to great defensive work, their attacks were repelled time and again. Rossa then had a good patch of scores from 20th to 28th minute, knocking over 4 points in succession but just before the short whistle Christy McNaughton lofted over a free to leave the half time score:
Ruairi Og 3-03 Rossa 0-06
The 2nd half started in rip roaring fashion with no quarter asked for or given by the boys in maroon. Rossa got the 1st score of the 2nd half which was a good point by their number 9.
Pearse Bannon steadied the nerves of the sizeable home crowd with a great point from play. Christy McNaughton lashed over a free and that man Bannon added another cracking minor, it looked Cushendall were well on the road to victory. Again, Credit to Rossa who added 2 more white flags and were working hard but tenacious defending from Cormac McClafferty, Paddy Sharpe, Joe McCurry and Captain Stephen Walsh stopped them from scoring and when they finally did beat the defence Emmett Laverty in goals pulled off a couple of top drawer saves.
Ryan Delargy went on a rampaging run on the 46th minute and beat 4 players before drilling the ball into the bottom right corner, Christy McNaughton fired in a goal and the points were looking secure.
Rossa started going for goals and found a mean defence keeping them out and James Allen and Seamus McAuley put their bodies on the line for the cause. Rossa fired over 2 points, but 1st Pearse Bannon and Christy McNaughton raised white flags and their was just time for Rossa to score a goal from a 21 yard free to leave the full time score:
Ruairi Og 5-08 Rossa 1-10
This was a top drawer performance from all the 17 players used by Ruairi Og. Emmett Laverty was in fine form in goals, in front of him James Allen, Seamus McAuley, Paddy Sharpe and Joe McCurry were teak tough in defence. In midfield, Ryan Delargy and Niall McNaughton went through a mountain of work and up front Ruairi Kinney worked like a dog at 11 and Christy McNaughton and Pearse Bannon were the marksmen but today the man of the match award is split between 2 players Stephen Walsh and Cormac McClafferty. These 2 men led the team and some of the catches, blocks and interceptions were a real inspiration to their teammates.
Team: 1. Emmett Laverty 2. James Allen 3. Stephen Walsh 4. Seamus McAuley 5. Joe McCurry 6. Cormac McClafferty (0-1) 7. Paddy Sharpe 8. Niall McNuaghton 9. Ryan Delargy (1-0) 10. Pearse Bannon (1-3) 11. Ruairi Kinney 12. Conor Magee 13. Jack McAlister (1-0) 14. Christy McNaughton (2-4) 15. Paddy Doherty
Subs Used: James McLaughlin and Raymond Burns