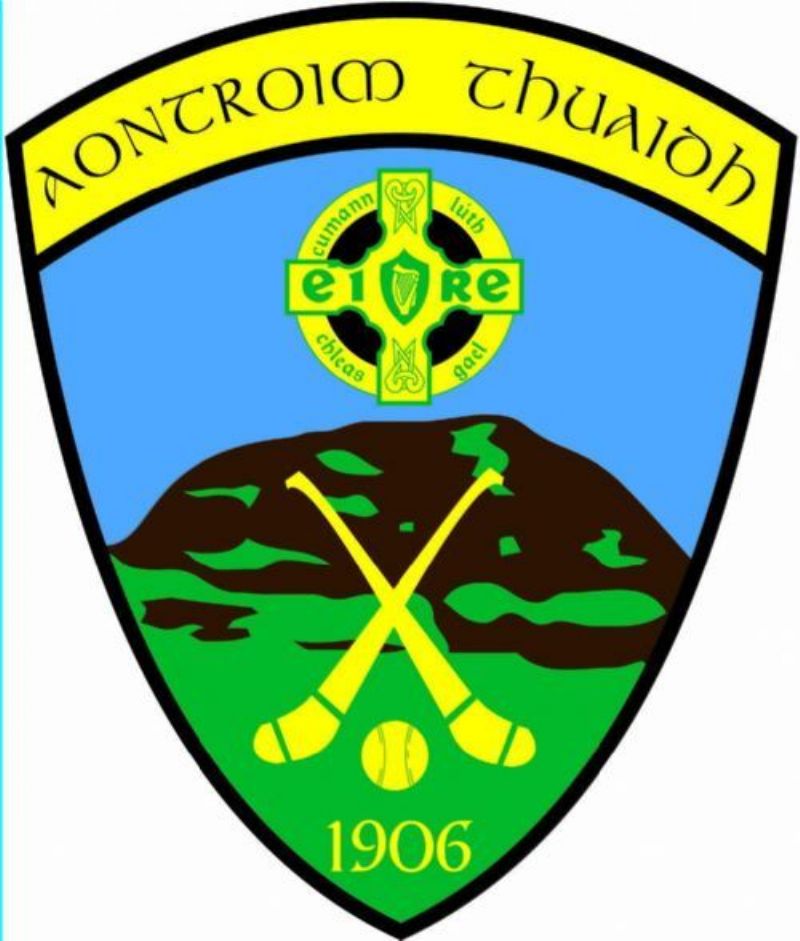 U16 North Antrim League
Robert Emmetts Slughtneil v Ruairi Og Cushendall ( 29/4/12)
Cushendall travelled to Slaughtneil looking to consolidate their position at the top of the table but inside the 1st 5 minutes this was looking a tall order as Slaughtneil Full Forward Cormac O' Doherty scored a good point and an even better goal to put his side 4 points to the good. Christy McNaughton got Cushendall on the scoreboard with a well worked point and that man O' Doherty added 2 more points, one from play and one from a placed ball to keep Slaughtneil well in front.
Chrsity McNaughton powered through the Emmetts rearguard to bang in a goal but the Emmetts responded by raising 2 white flags, 1st from Proinsias Burke and then O' Doherty and Slaughtneil were well in the ascendancy. Oisin Glass and Paul McNeill slotted over 2 more Slaughtneil points and it looked that Cushendall were out of contention but 1st Ryan Delargy and then Raymond Burns banged in a goal apeice for the Young Ruairi's and it was game on.
Cormac O' Doherty added another point and when he banged in another goal Slaughtneil were looking good value for the win. Christy McNaughton then added another point from a set piece for Cushendall and there was just time for Proinsias Burke to loft over another point to leave the half time score:
Robert Emmetts 2-09 Ruairi Og 3-02
Whatever was said in the Ruairi Og dressing room at half time should be recorded and sold on because there team came out and right from start never gave Slaughtneil an inch. 1st Pearse Bannon and Centre Half Cormac McClafferty added 2 points and then Christy McNaughton hammered in an unstoppable 21 yard free to the roof of the net and Cushendall were in front for the 1st time in the match.
Shane McGuigan knocked over a point for Slaughtneil and this was immedietley cancelled out by left half back Joe McCurry, who beat his man to the ball and from a full 70 yards dissected the uprights for probably the score of the game. Cormac McClafferty then flighted in a 65 metre free which found its way direct to the Slaughneil goal and Cushendall had a bit of daylight now.
Cormac O' Doherty and Oisin Glass added 2 more points but Ruairi Og Sharpshooter Christy McNaughton added 2 points 1st from play and then from a placed ball and Pearse Bannon then knocked over another point as the game entered the final 5 minutes. Cushendall were really defending well and Cormac McClafferty was excelling at Centre half and time and time again picked out his fellow players with precise stick passing of the highest order. Christy McNaughton then got the last point of the game and the Ruairi Ogs had won on a scoreline:
Robert Emmetts 2-12 Ruairi Og 5-09
Man Of the Match
Emmett Laverty was as ever dependable in goals, Seamus McAuley, Paddy Sharpe, Joe McCurry were resolute in defence, and Christy McNaughton, Pearse Bannon and Raymond Burns best up top but Cormac McClafferty was head and shoulders above any one on the pitch and some of his fielding, passing and defending was exceptional.
1. Emmett Laverty 2. Paddy Doherty 3. Stephen Walsh 4. Seamus McAuley 5. Joe McCurry (0-01) 6. Cormac McClafferty (1-01) 7. Paddy Sharpe 8. James Allen 9. Ryan Delargy (1-0) 10. Pearse Bannon (0-02) 11. Ruairi Kinney 12. Conor Magee 13. Jack McAlister 14. Christy McNaughton (2-05) 15. Raymond Burns (1-0)
Subs Used: Cathal McDonnell, Eoin Magee, Connel McAteer and Liam Gillan