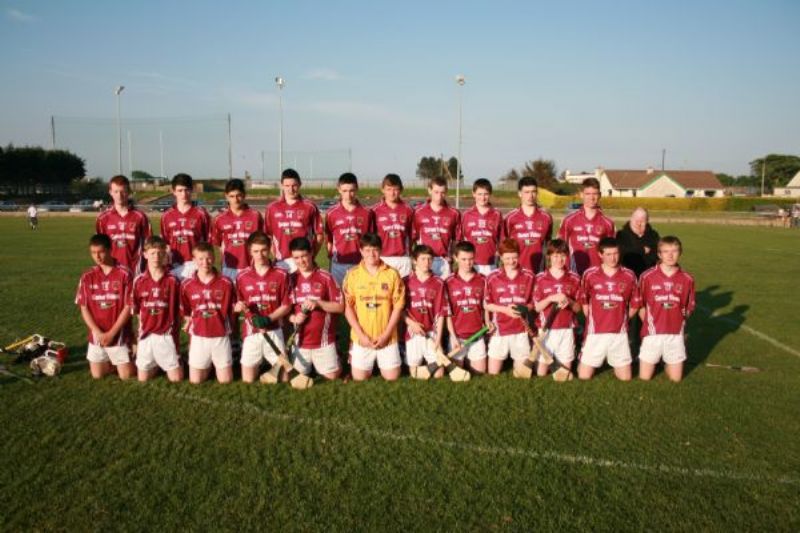 U16 North Antrim League
McQuillans Ballycastle v Ruairi Og Cushendall (4/6/12)
Ballycastle got the ball rolling when Diarmuid McShane slotted over a free. Cormac McClafferty replied immedietley after with a set piece of his own, Pearse Bannon then fielded a high ball turned and split the Ballycastle uprights. Niall McNaughton then stretched Cushendall further in front when he won a ball in midfield and from 60 yards and split the uprights for a great score.
Niall McNaughton then lofted over 2 more points, one from open play and one from a free. Diarmuid McShane got Ballycastle back on the scoreboard with a neatly taken point, but Cushendall got back in the ascendancy with Cormac McClafferty from a set piece , Pearse Bannon then added a cracking point and then Cormac McClafferty hit a great score from all of 70 yards and Ballycastle were in all kinds of trouble.
TT Butler added 2 points in quick succession for the town but Cushendall responded when full forward Paddy Doherty hit a rasping ground shot into the bottom corner of the net and Cushendall were pulling away. There was just time for the towns Diarmuid McShane and Niall McNaughton to trade points to leave the half time score: Ballycastle 0-05 Ruairi Og 1-09
Diarmuid McShane raised another white flag for the town, then Paddy Doherty hammered an unstoppable effort into the top right corner of the Ballycastle net to get Cushendall up and running. Cushendall took complete control of the game now and a series of points from Joe McCurry, Pearse Bannon, Niall McNaughton and Ryan Delargy with 3 and all Ballycastle could reply with was a point by TT Butler.
Raymond Burns fired over 2 cracking points in a row for the'Dall and then the outstanding Niall McNaughton added another and Cushendall were firing on all cylinders. Diarmuid McShane added another point for the 'Castle but Jack McAlister added a stunning goal and then followed it up with a good point and there was just time for TT Butler to smash in a well worked goal to leave the full time score: Ballycastle 1-08 Ruairi Og 3-19
Man Of the Match
There was quite a few contenders for man of the match today. In defence Stephen Walsh, Fergus McCambridge and Cormac McClafferty were excellent. Up front, Pearse Bannon, Raymond Burns, Daniel McAlister and Paddy Doherty put in a great shift but for me Niall McNaughton was the outstanding player of the game. He contributed 0-6 to the score, but his work rate and energy were unreal.
Ruairi Og
1. Emmett Laverty 2. Liam Gillan 3. Stephen Walsh 4. Cathal McDonnell 5. Paddy Sharpe 6. Cormac McClafferty (0-03) 7.Fergus McCambridge 8. Niall McNaughton (0-06) 9. James Allen 10. Pearse Bannon (0-03) 11. Ruairi Kinney 12. James McLaughlin 13. Raymond Burns (0-02) 14. Paddy Doherty (2-00) 15. Daniel McAlister
Subs Used: Seamus McAuley, Joe McCurry (0-01), Ryan Delargy (0-03) Michael Delargy and Jack McAlister (1-01)