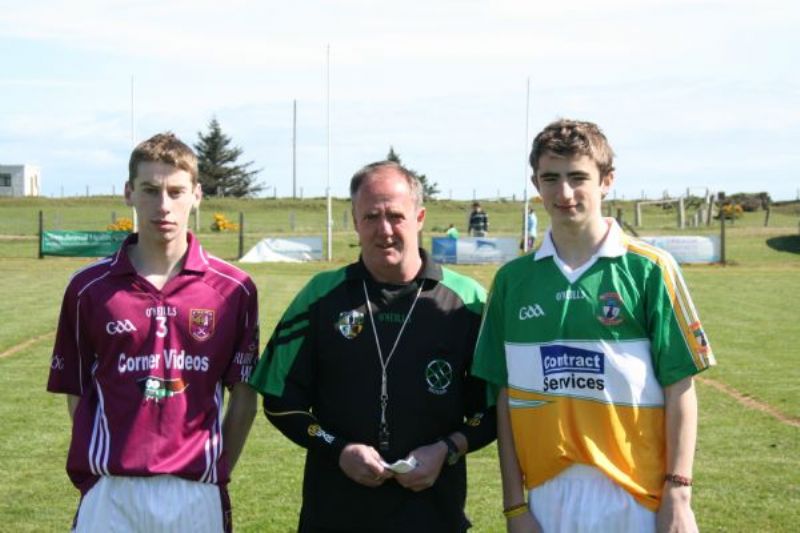 U16 North Antrim League
Ossians Glenariffe v Ruairi Og Cushendall (05/05/12)
Cushendall travelled the short distance to Waterfoot to take on local rivals Glenariffe in what was a glorious day for hurling, and it was the young Ruairi's who registered the 1st point of the game when Ruairi Kinney split the uprights from 40 yards. Ryan Delargy then banged over a point for Cushendall and Eoin Magee raised a white flag as well and Cushendall were winning by 3 points after 8 minutes. Glenariffe were tying to play through the Cushendall defence but Joe McCurry, Cathal McDonnell and Paddy Sharpe were defending in great spirit and Glenariffe were making no head way.
Ryan Delargy then retired injured and Cushendall sprung Christy McNaughton from the bench and straight away he got his name on the scoresheet when Eoin Magee was fouled and Christy punished rthe infraction when he buried the ball into the net and Cushendall were 6 to the good. A string of points from Cushendall with Pearse Bannon with 1 point, Niall McNaughton with 1 point and Christy McNaughton with 1 point from a placed ball and Cushendall stretched further in the lead.
Niall McNaughtons long range effort found its way into the back of the Glenariffe net and then Christy McNaughton then banged in 2 more goals as he took advantage of some poor marking in the Glenariffe rearguard and that man Christy banged over the final point of the half to make the half time score:
Ossians 0-00
Ruairi Og 5-07
The 2nd half started the way the 1st ended with Cushendall making all the running. Pearse Bannon added a point and further points from Eoin Magee and Niall McNaughton and Cushendall were looking relentless. Conor Patterson got Glenariffe on the scoreboard with a point from a free and then Alec O' Boyle added 2 points as well and finally the Glenariffe fans had something to shout about.
Pearse Bannon added another point for Cushendall and then Christy McNaughton raised another green flag for the Ruairi Ogs and Glenariffes mini revival seemed dead in the water.
Conor Patterson added another pointed free and then Ciaran Leech beat Ruairi Og Goalkeeper Emmett Laverty with a lofted shot which was miscalculated and Glenariffe had a goal of their own. Pearse Bannon then added another point for Ruairi Og and that was cancelled out by Alec O' Boyle.
Christy McNaughton then had the final say as he hit another point to leave the final score:
Ossians 1-05
Ruairi Og 6-13
Man Of the Match
There was quite a few contenders for man of the match today but unfortunately from Glenariffes point of view they were all in Maroon and white. Stephen Walsh, Paddy Sharpe, Niall McNaughton, Ruairi Kinney, Eoin Magee and Christy McNaughton were very good but for me Cathal McDonnell was unreal in corner back for the Ruairi Ogs. He cleared some amount of ball and put in a great display of Corner Back play over the hour.
Ruairi Og
1. Emmett Laverty 2. Cathal McDonnell 3. Stephen Walsh 4. Seamus McAuley 5. Paddy Sharpe 6. Joe McCurry 7. James Allen 8. Niall McNaughton (1-03) 9. Ryan Delargy (0-01) 10. Pearse Bannon (0-03) 11. Ruairi Kinney (0-01) 12. Conor Magee 13. Eoin Magee (0-03) 14. Paddy Doherty 15. Raymond Burns
Subs Used: Christy McNaughton (5-02), Daniel McAlister, Connel McAteer, Jack McAlister and Ciaran Emerson
1. Sean McCann 2. Sean McMullan 3. Jonathon Fyffe 4. Cealin Farrell 5. Ruairi McAlister 6. Tom Kerr 7. Sean Linton 8. Ciaran Leech (1-0) 9. Conor Patterson (0-02) 10. Daniel Haughey 11. Niall McAlister 12. Sean McIlroy 13. Alec O' Boyle (0-03) 14. Ciaran Fyffe 15. Michael Fyffe
SOME PICTURES FROM THE GAME ARE AVAILABLE TO VIEW IN THE GALLERY SECTION