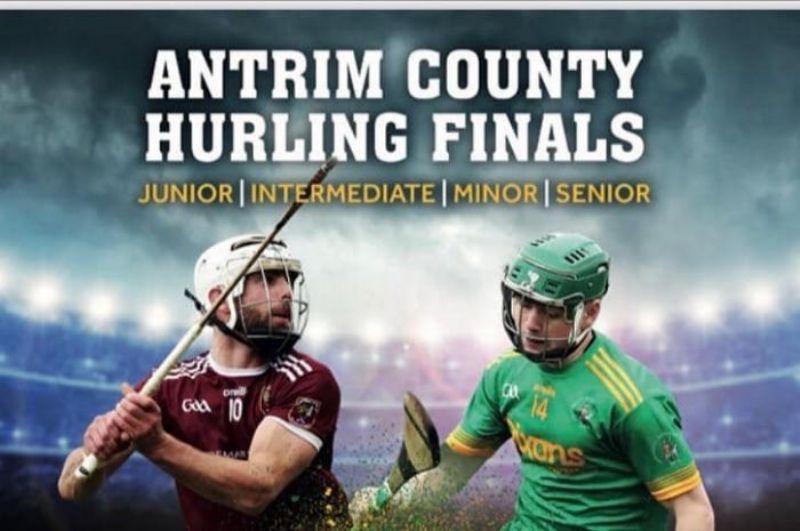 Thank you to Colum Thompson for this preview:
Antrim Senior Hurling Championship Final 2019
Ruairi Og Cushendall v Cuchullains Dunloy
Think Barcelona v Real Madrid, The Yankees v The Red Socks, Nadal v Federer, Muhammad Ali v George Foreman. The ultimate Antrim Senior Hurling Championship rumble in the jungle is Cushendall v Dunloy. In the last forty years no two teams have dominated the hurling horizon in Antrim quite like Ruairi Og and Cuchullains. In that time the two clubs have amassed a whopping 26 championship wins, 14 for Cushendall and 12 for Dunloy. It is perhaps all the more incredible given the success rate of both clubs that they have only ever met in 4 county finals in that time.


Dunloy will start the game as Favourite due to their impressive form in winning the county league earlier in the season. They have been superb at times playing a free flowing, high scoring style of hurling with Coby Cunning, Keelan Molloy and Seaan Elliott to the fore. At the back Kevin Molloy and Conor McKinley provide the spine of an uncompromising defence and in Ryan Elliott they have a superb goalkeeper. This young team has won a host of minor and under 21 titles and are brimming with confidence.


Cushendall on the other hand, in true Cushendall style have approached the season on a slow burner hoping to come to the boil at the perfect time. And who would bet against them? If Cushendall's Championship form over the last five years has taught us anything, it's that when Cushendall are written off and have their backs against the wall, they produce something special. The physical presence of Conor Carson and Sean McAfee may have gone but this has allowed others to step up and fill the void. None more so than Alex Delargy who was tormentor in chief against St. Johns in the drawn semi final and the replay. Paddy McGill showed all his class against The Johnnies too and he can cause any defence problems. Eoghan Campbell along with Paddy and Martin Burke will never give scores away easily and anything Dunloy get, they'll have to work for.


To win a Championship Final a team needs a leader and these two teams couldn't ask for better. For Dunloy the irrepressible Paul Shiels is the fulcrum of their machine. He is the key component in their system, he has vision and class, pulling the strings and shaping the play. For Ruairi Og their chieftain is Neil McManus - inspirational, uncompromising, colossal. Experience is vital in the bubbling cauldron of championship hurling and these two players have it in abundance. While I don't expect them to face each other directly on the pitch, the performances of these players will go a long way to influencing the destination of The Volunteer Cup.