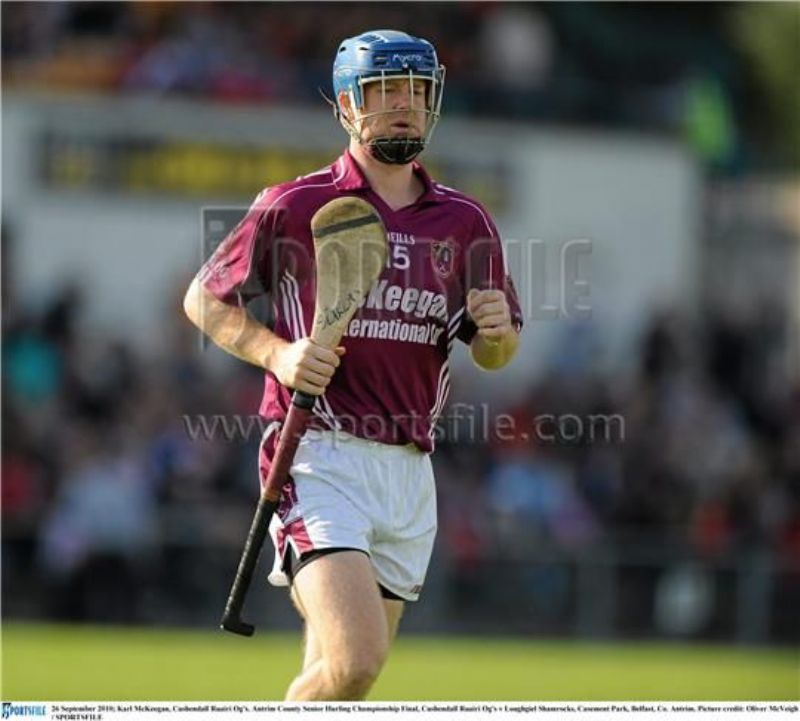 Cushendall upset the odds to deny Loughgiel an Antrim league and championship double when they came away from Fr Healy Park with a two point victory. With seven players on the scoresheet and Eoghan Campbell playing out of his skin Ruairi Og always looked the more potent side. Loughgiel were too dependent on Liam Watson frees. Eoghan Campbell proved Cushendall's best marksman with three first half points to leave the half time score Loughgiel 0-9 Cushendall 0-8.
Cushendall put in a brilliant second half performance, early points from Mc Gill, Conor Carson and Shane Mc Naughton turned the game and Cushendall never looked back. In the final quarter Eunan Mc Killop, Campbell and Paddy Mc Gill added points and in injury time Mc Gill and Campbell scored vital points as Loughgiel sub Donal Mc Kinley goaled to leave the final score Loughgiel 1-11 Cushendall 0-16.
How they played: Cushendall showed great heart and determination to deny Loughgiel. Ronan Kearney was sound in goals and in front of him Aaron Graffin and Neil Mc Manus provided the bedrock for the defence. Aidan Mc Naughton and Paddy Mc Gill shaded the midfield exchanges and up front Conor Carson and Brian Delargy got through a mountain of work however my man of the match goes to Eoghan Campbell who produced an sensational performance, he gave his man a torrid time and crashed over five brilliant points.
Team: 1. R Kearney 2. S Delargy 3. A Graffin 4. M Burke 5. D Mc Naughton 6. N Mc Manus(0-2) 7. R Mc Grady 8. A Mc Naughton 9. P Mc Gill(0-4) 10. C Carson(0-2) 11. B Delargy 12. K Mc Keegan(0-1) 13. S Mc Naughton(0-1) 14. E Mc Killop(0-1) 15. E Campbell(0-5)
Subs used: P Mc Naughton