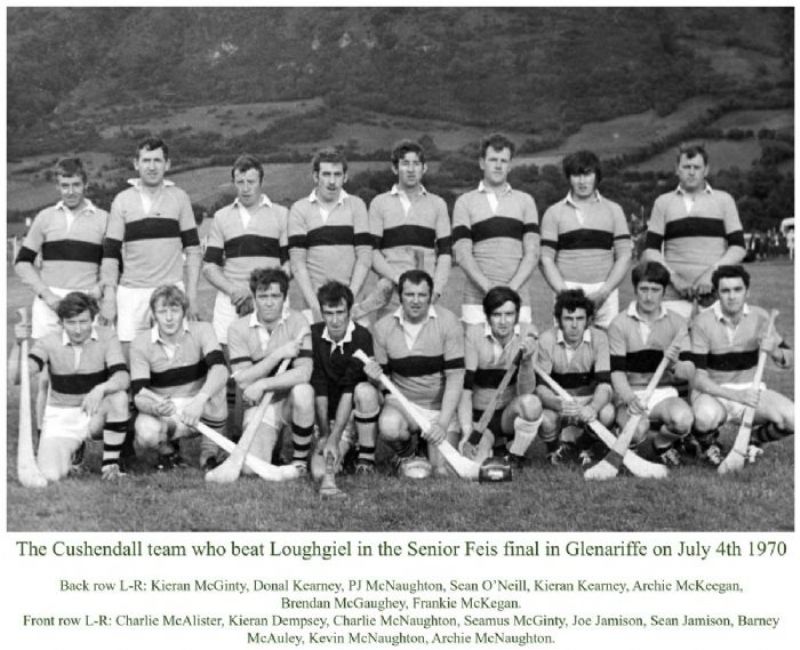 Fifty years ago today, July 4th, Cushendall hurlers caused a major upset when they beat Loughgiel in the Feis Cup final at Waterfoot. Cushendall were playing their hurling in Division 2 at the time and the previous year had won the Junior Feis Cup. Loughgiel were in the middle of a goldern period, with a team full of stars, and although they had been beaten in the county semi-final the previous year they went on to win back the county title again later that year and added another the following year to make it five titles in six years.
Looking back, many Cushendall people see that win as a milestone in the club's history, and one that gave them belief that they could mix it with the big boys. At the start of a decade that saw them establish themselves in the top division of Antrim hurling, winning the Division 1 league title in 77, reaching their first county final in 79 before finally making the breakthrough in 1981 with their first senior title.
Feis na nGleann 1970 – Senior Hurling final
Cushendall 3-6 Loughgiel 3-4
A lap of honour around the Glenariffe pitch by the victorious Cushendall side gave some indication of the jubilation felt in the Cushendall camp after this Feis Cup final victory over the mighty Loughgiel.
This Cushendall side have carried off a unique double in that they won the Junior Feis Cup last year and have now added the Senior crown a year later. The Coast Road men led all the way in this exciting tussle, but in the final quarter when their forwards had apparently given up the task of taking scores, their defenders did an excellent job in keeping the goal hungry Loughgiel forwards at bay. Loughgiel have only themselves to blame. At the end of the third quarter, when they were only two points in arrears, they persisted in looking for goals. The Cushendall goalmouth was under continual siege but gallant net minding by Seamus McGinty and excellent defensive play by the back six, thwarted Loughgiel's hopes.
Cushendall were two goals up in as many minutes as Barney McAuley and Joe Jamison hit the net, and they certainly gave the impression that, although underdogs, they meant to fight every inch of the way. A goal from John-Joe Smith a minute later kept the Shamrocks in touch but a point from Sean O'Neill kept the seasiders comfortably ahead.
A Loughgiel point from Brendan McGarry was quickly and confidently followed by a goal from Kieran Kearney. Hurler supreme Sean O'Neill added another point but Seamus Richmond hit back with a Loughgiel goal to keep the Shamrocks in touch. Paddy McIhatton added another point for Loughgiel but the wily O'Neill was on target at the other end for Cushendall. A point from Brendan McGarry marked the end of Loughgiel's first half scoring, but aptly enough Cushendall's Sean O'Neill had the final say with a last minute point.
After the interval Cushendall began again in most convincing fashion as Sean O'Neill knocked over a long range point. At this stage Loughgiel began to realise that the fat was almost in the fire and their play took on a sense of urgency that had been lacking throughout the game. Left half forward Seamus Richmond slammed home a goal from close range and corner forward Tom McFadden got his name on the scoresheet with a fine point.
Only trailing by a point now with fifteen minutes remaining, it seemed as if the experience of Loughgiel would overcome the sheer determination of Cushendall, but as it turned out, this was not the case. Cushendall's Sean O'Neill hit his sixth point of the game ten minutes from time which proved to be the final score of the match. While Loughgiel bombarded the Cushendall goalmouth, their scorline showed no improvement and one feels had they taken their points they could have easily has stopped the rot which has recently appeared in their play.
The whole Cushendall side played themselves to a standstill but none more so than netminder Seamus McGinty. The defence was superb with honours going to corner back Brendan McGaughey and centre-half back PJ McNaughton. Donal Kearney and Sean O'Neill were allowed plenty of scope at midfield and O'Neill must emerge as Hero of the Hour. The forwards were eager for scores with Kieran Dempsey, Sean Jamison and Joe Jamison catching the eye.
Loughgiel gave a disappointing display and few of their stalwarts really struck form. Johnny Coyle did all that was asked of him in goals while Patsy McIlhatton, Seamus McMullan and Tony Connolly played hard in defence. Dan Gillan and Aidan Connolly found themselves up against it at midfield, while up front Seamus Richmond, Barney Campbell and Brendan McGarry were best in a forward line that seemed to have little interest in taking their points.
Cushendall scorers: Sean O'Neill 0-6; Barney McAuley, Joe Jamison and Kieran Kearney 1-0 each.
Loughgiel scorers: Seamus Richmond 2-0; John Joe Smith 1-0, Brendan McGarry 0-2; Paddy McIlhatton and Tom McFadden 0-1 apiece