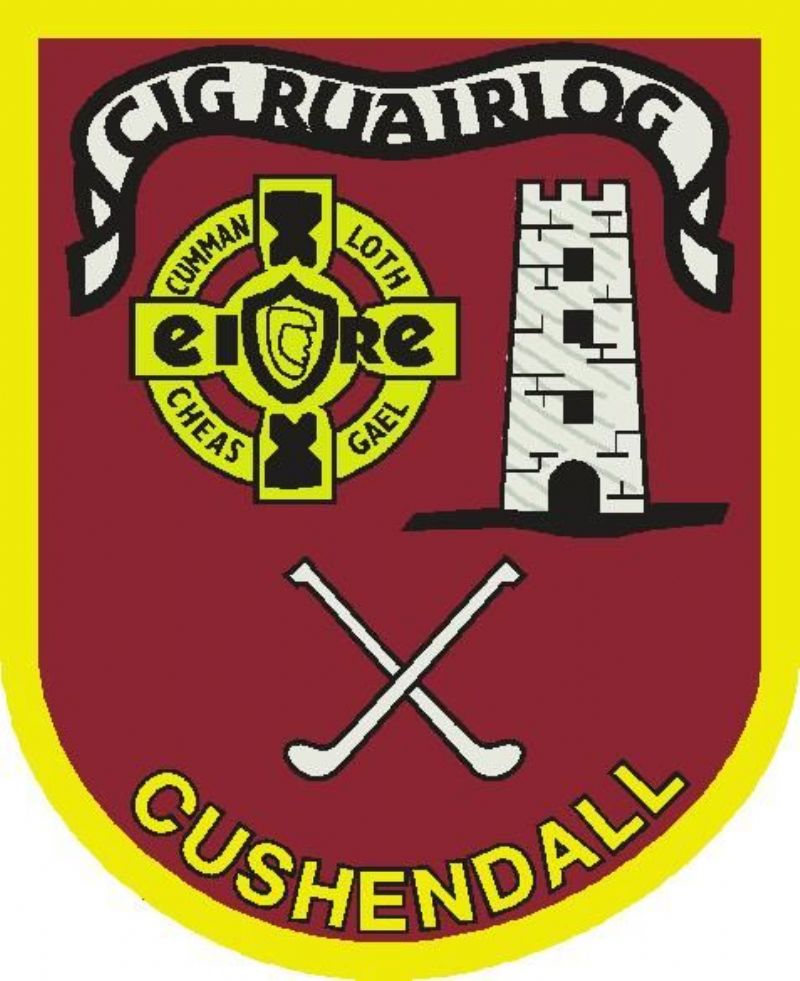 Ruairi Og would like to thank Paddy Burns for the time and effort which was put into the following article about the founding members of Ruairi Og GAC.
The Ruairi Og
Founding Fathers
Ruairi Og GAC was formed in 1906. The thirteen founders of the club, and the beginnings of a new and exciting era in Hurling and Gaelic Football, were led by local enthusiast Father George Mc Killop.
The other members of the cornerstone Ruairi Og Committee were:
Dan Mc Keown
Jamie Mc Keegan
John Mc Auley
Dan Mc Mullan
Mick Moore
James Moore
Alex Mc Killop
Johnny Mc Killop
Alex Mc Naughton
Dan Mc Alister
Malcolm Mc Cambridge
Henry Mc Cormick
Fr. George Mc Killop:
Fr. George Mc Killop was born in Ballyeamon, on October 16th 1882 and educated at St. Malachy's College. He was ordained in 1907. In 1906 he was the driving force behind the birth of The Ruairi Og Club and may well have been the clubs first chairman. He was also an excellent player in hurling, gaelic football and soccer and a noted all-round athlete. He played in Ruairi Og teams for a number of years, even though it appears he was not attached to Cushendall Parish for priestly duties.
Dan Mc Keown:
Dan Mc Keown lived in Mill Street, Cushendall. He was a very competent as a hurler and gaelic footballer. He emigrated to The USA and became vice-captain, under team skipper Jack Mc Mullan of the New York Antrim hurling team.
Jamie Mc Keegan:
Jamie Mc Keegan, known as "The Colonel", came from Shore Street, Cushendall. Reputed to be a classy hurler, he was unmarried. He worked in Mc Allister's Shore Street shop. He was the son of Rose (Mc Vicker) Mc Keegan.
John Mc Auley:
John Mc Auley, anecdotal evidence suggests he did not participate on the field of combat, but was the club's first Secretary. He was a highly respected Justice Of The Peace, and regarded a top administrator for the Ruairi Og Club. Unmarried, he lived at Sundial House on High Street.
Dan Mc Mullan:
Dan Mc Mullan, from High Street, was rated a great hurler. His four sons, Jim, Jack, Chris and Danny followed in his footsteps. His daughter Josephine, was the first secretary of the club's organized Camogie section, formed during the early 1930's.
Jack emigrated to The Usa and was captain of The Antrim hurling team in New York. Chris was an instinctively gifted winger, in both hurling and gaelic football. Danny's son, Oliver hurled for the club. Josephine married Joe Barrett of Scotland. Their son, Christopher, developed into an outstanding hurler, not only for Ruairi Og teams but also for Antrim and Ulster. Joe and Josephine Barrett's daughter, Anne is the mother of current Ruairi Og senior hurler Odhran Scullion.
Mick and James Moore:
Mick and James Moore, unmarried brothers from Cloghs, were second cousins of the Quinn family. The Quinn unit of ten children, also from Cloghs, maintained the strong link with The Ruairi Og Club through Alex, Mary, Charlie, Mick, Roisin, Harriet, Nancy, Seamus, Patsy and Betty. Alex was the club's assistant treasurer during the early 1980's. Mary, who married Murray Emerson, also kept up the connection through her three sons. Fr. Sean Emerson is a faithful supporter of the club. Alex hurled for the team and later coached at various levels within the club before serving on the club executive. Gabriel, who helps maintain the club grounds has three sons participating in the juvenile hurling programme. Mick Quinn hurled with distinction for two clubs, with Cushendun Emmet's and with Ruairi Og. His son Mick also played for the club and the line of succession continues through Mick Jnr's three children – Michael and twins Emer and Aine. Nancy became Mrs Eddie Harvey of Glenariffe. Her sons, Edmund and Hugh, and her grandson, Conor Mc Allister, are members of Glenariffe Oisin. Harriet married Paddy Mc Kay of Cushendun and her two sons, John and Martin, were involved as players with Emmet's GAC. Charlie strongly supported the club, as did his son Brian who died aged just twenty-six. Seamus emigrated to Canada. Patsy's sons, Declan and Padraig are committed members of the club. Betty married Alistair Mc Allister of Glenariffe and her sons, Alistair and Michael played for the Oissian's.
Alex and Johnny Mc Killop:
Alex and Johnny Mc Killop were unmarried brothers from Cloughs. However, the family tree in hurling continued to blossom through their nephews, Danny, Alex and Neil Mc Killop of Glenburn. All five sons of Danny, Paul, Dermot, Ciaran, Joe and Gerard hurled for The Dall. Also, his daughter, Aine Mc Killop played camogie for Cushendall and now her daughter, Jessica (Cochrane) plays for the under 10's. Paul has four sons in the juvenile ranks, Fergal, twins Cahal and Ronan and Eoin. Alex's family continued in caman contribution for the Ruairi Og's through his sons Alex Jnr, John and twins Niall and Donal. Alex Jnr's three sons, Declan, Ronan and Eunan and daughter Cliodhna also became involved in team activities. John was the manager of the 2010 minor team that won the County and Ulster titles. His son Kevin was a member of the team. Neil Mc Killop was a stylish, crisp striking centre-back when helping St. Mac Nissi's College make history with a first win in the Ulster Colleges senior hurling title in 1954. His sons also hurled for the club.
Alex Mc Naughton:
Alex Mc Naughton of Cloughs had his club foundation endeavors maintained by grandsons, Archie, Charlie and Alex. Four sons of Archie played hurling for the Dall- Paul, Patrick, Cahal and Donal. Two daughters, Bridget and Anne were prominent members of the clubs camogie team. Charlie's son Michael played for Ruairi Og while daughter Louise also played camogie.
Dan Mc Allister:
Dan Mc Allister from Mill Street became a prominent auctioneer and this tradition has been maintained in the family. His son, Danny, better known as Danny Dan was a county hurler and equally gifter in the art of gaelic football. Following his retirement, as an active player for Ruairi Og he became the senior team manager during the late 1950's. He trained the senior camogie team also. Danny also had the honour of becoming Antrim Hurling Board Chairman. His five sons, Daniel, Brendan, Lawrence, Declan and Fergus made sure the link from past to present remained unbroken. They played hurling and became involved in all levels of the club. Three daughters, Nuala, Mairead and Ursla, were strong contributors to the camogie team as well. "Young Danny Dan", the present auctioneer and estate agent, has a son, unsurprisingly named Daniel, who was involved in the 2011 under-14 hurling team. Two daughters, Helena and Hannah, play for the camogie team. Brendan's sons Ciaran and Owen are also in the underage teams and his daughter Clare is in the camogie section. Declan's son DJ, featured in the 2011 minor side. Fergus managed the 2011 senior team. Nuala, also managed the first Cushendall camogie team to win the Antrim title in 1986. Mairead's son Fergus Donnelly, plays for Ballycastle Mc Quillan's while two daughters, Kathryn and Christina, play camogie for Ballycastle.
Malcolm Mc Cambridge:
Malcolm Mc Cambridge from High Street had three sons, Johnny, James and Malachy, who competed for the club and later emigrated to The USA. Malachy featured in the New York Antrim hurling team. Daughter, Lotti, married Donegal-born Frank Mc Ginty. Seven of their sons played for Ruairi Og – Francis, Seamus, Johnny, Gerard, Tony, Vincent and Kieran. Johnny and Gerard were on the first Cushendall team to win the Antrim Minor Championship in 1963.
Henry Mc Cormick:
Henry Mc Cormick was a blacksmith from Bridge Street. His grandnephews, the five Blaney brothers – Gerry, Harry, Jim, Paddy and Mick – followed in his path as part of Ruairi Og teams. Gerry's son, Gerry also played and has a son, Patrick who was part of the 2010 minor team. Paddy's daughter, Margaret Rose Mc Guigan, has two sons playing and a daughter Rose, who became involved in camogie team activity.