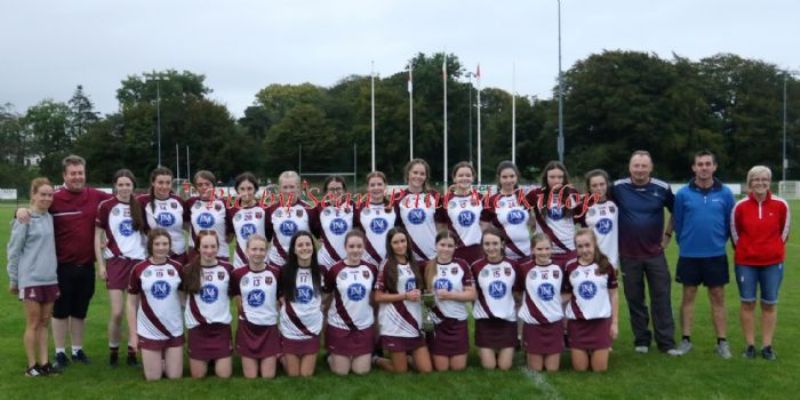 Cushendall withstood a second half fightback by Loughgiel before taking the honours in Monday evening's Under 16 Feis Cup Camogie final at Fr Maginn Park, Glenravel. The Ruairis led by 9 points at half time and appeared to be comfortable but Loughgiel showed a marked improvement in the second half and boosted by a Ciara Connolly goal they brought the gap down five. There were a few nervy moments for the Cushendall fans but they got back into their stride and finished with a bit of a flurry to seal the win by 8.
Cushendall dominated the opening quarter and 5 points from midfielder Orlaith McAlister, 2 from play, two from frees and one from a 45 had them 0-5 to 0-1 clear on 15 minutes, the Loughgiel point coming from Anna McKillop. Another McKillop pointed free on twenty minutes left just three between the sides, but a goal from corner forward Annie Kearney a minute later put Cushendall back in control. When Emily McNaughton fired in her team's second goal the gap was out to nine, and though McKillop goaled to close the gap to six again just before half time, there was still time for Cushendall corner back Orla Kane to grab one at the other end to put here team nine clear at the interval. (3-6 to 1-3)
Anna McKillop got Loughgiel away to a good start with a point in the first minute of the second half but Cushendall responded well and two points from Orlaith McAlister stretched their lead to ten. It all appeared to be plain sailing for the 'Dall girls at this stage, but they failed to score during the next 20 minutes and you could sense a nervousness in their play. Their defence picked up the slack though during this time and they restricted Loughgiel to just two Anna McKillop points from play. When Ciara Connolly got her team's second goal in the 26th minute the gap was down to five, but Cushendall responded well when challenged and two from top scorer McAlister and one from her midfield partner Cara O'Boyle secured the trophy.
CUSHENDALL
Laoise Mulholland, Caoimhe Morgan, Eimear McMullan, Orla Kane, Marie Claire McAlister, Abi McNeill, Cliodhna O'Hara, Orlaith McAlister, Cara O'Boyle, Laura Black, Kady McNeill, Orlaith McCurry, Annie Kearney, Niamh McNeill, Eva McNeill.
Subs – Rhianna Black for Niamh McNeill; Meabh McAlister for Annie Kearney
LOUGHGIEL
Eimear McGivern, Aoibhann Gillan, Aoife McMullan, Anya Connolly, Zoe Cassley, Clodagh McNulty, Alana McKendry, Caela Dobbin, Anna McKillop, Anna McKillen, Shana Deery, Eimear McKinley, Ciara Connolly, Erin McGrath.