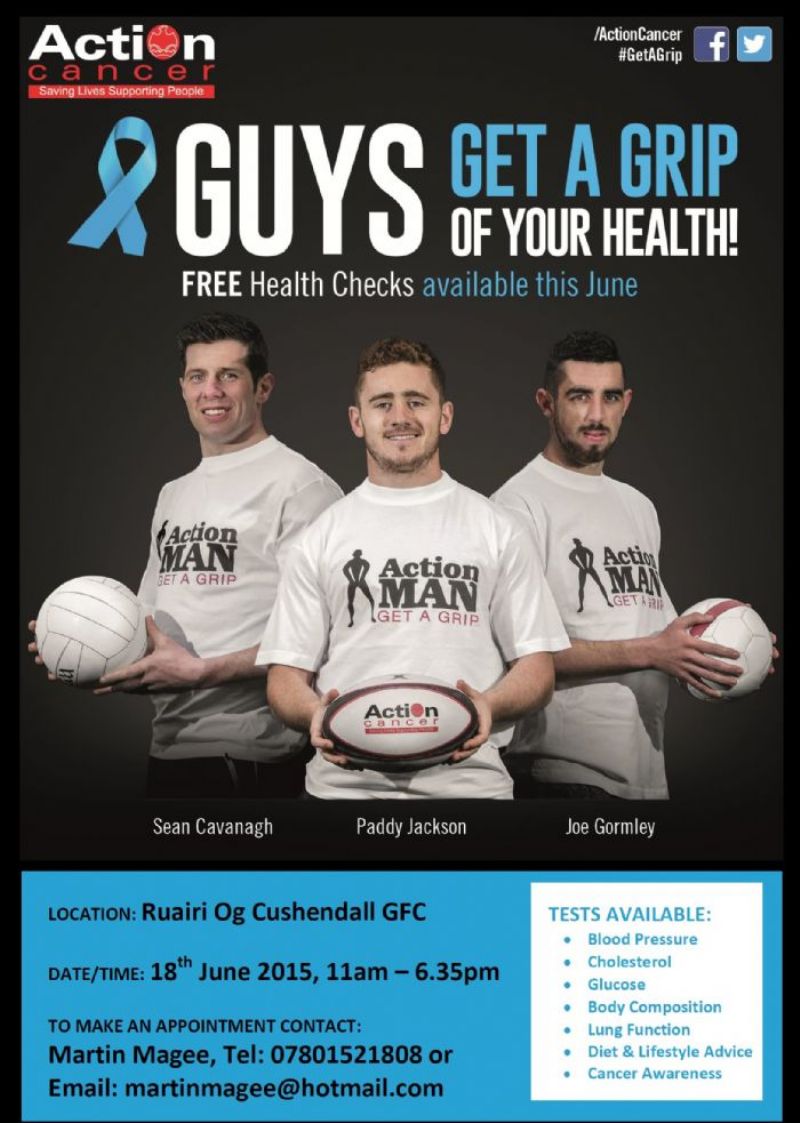 Ruairí Óg - The Healthy Club

The health checks on Thursday 18th June do not diagnose cancer but aim to increase awareness of your current health and the importance of early detection. Each appointment will last 25 minutes and will include up to four of the available five tests.

The health checks consist of : Cholesterol and Glucose testing, Blood pressure, Lung function Body Composition analysis and Facial skin analysis. We also offer advice on cancer awareness and information on diet and exercise in total it's a 25 minute appointment.

Please note the following:

· A three hour fast is necessary before the cholesterol and glucose tests.
· Cholesterol and glucose tests cannot be carried out if suffering from a bleeding disorder or on blood thinning medication (e.g. Warfarin).
· Body composition test cannot be carried out if you have any internally implanted medical devices (e.g. pacemaker).
Please read information below on tests available and then select an available date and time for your appointment.

The five health check options available are:

Cholesterol Testing
The cholesterol measurement involves obtaining a single sample of blood from the individual's finger using a sterile needle. It is important to have your cholesterol monitored as high cholesterol increases your risk of serious health conditions such as heart attack and stroke.

Glucose Testing
The glucose measurement requires a single sample of blood from the individual's finger using a sterile needle. The glucose measurement is used to indicate the risk of Diabetes. *The first 2 tests must be taken together and will be counted as 2 of your choices.

Blood pressure and pulse rate
Blood pressure measures how strongly blood presses against the walls of your arteries as it is pumped around the body by your heart. If this pressure is too high it puts a strain on your arteries and your heart which makes it more likely that you will suffer a heart attack, stroke or kidney disease.

Lung function
· A peak flow meter is used to measure the maximum rate of air breathed out. Three readings are taken to indicate how well the lungs are functioning.

Body Composition analysis
· Carried out in the form of bioelectrical impedance analysis (BIA). These professional scales measure weight, body fat %, fat mass, muscle mass, total body water %, metabolic age, basal metabolic rate (BMR), visceral fat (fat which gathers around internal organs) and body mass index (BMI). *Not available if client has a pacemaker. For more accurate results it is recommended that you should not do heavy exercise or eat a large meal in the 3 hours before this test.

Action Cancer
Saving Lives Supporting People

Each GAA club has a responsibility to promote a positive message for Health & Wellbeing for members. To follow up our hugely successful Biggest Loser program's we have Action Cancer coming on Thursday 18th for a men only appointment day. The appointments will only last 25 minutes and we have 9 slots left out of 30. A general health check will be supported by a quick simple blood test for cholesterol checking so please do not eat for 3/4 hours before your appointment for the most accurate results. The tests take place at the pavilion of Ruairi Og CLG home of the Antrim GAA small ball champions not the GFC..

Thank you to Action Cancer for this service and for supporting our members. Further details on the poster.