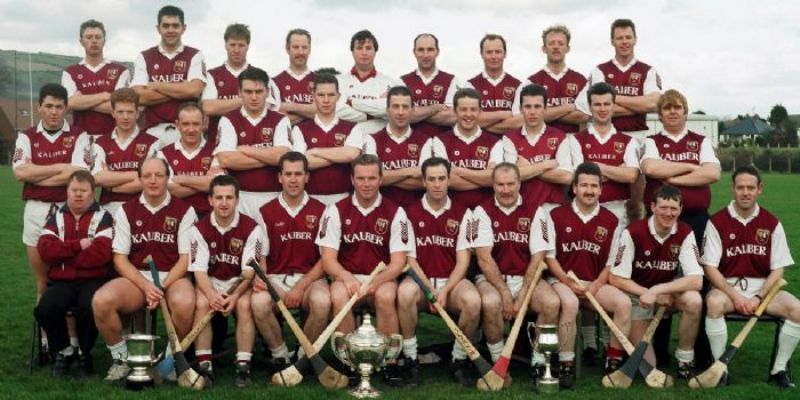 It is a huge honour to be asked to do something like this but the pride quickly faded when I realised I'm definitely going to be accosted in The Lurig the first night it opens because I've left someone out or selected someone in the wrong place. So keep in mind this is for a bit of light hearted entertainment.
Anyway I've based my team selection for Ruairi Og on players I've watched play. My first real clear memories of watching hurling was from our three in a row of Championship victories from the early 90's so I'm picking from the players from then on. I know that counts out greats from the past like Mannix McAlister, Seamus McGinty, Chris Barrett and Mick McKeown and from the 70's and 80's like Sean McNaughton, Liam McKillop and John Delargy but I don't remember or didn't have the privilege of seeing those men hurling. I love flair players, mavericks and guys who played hurling with a smile on their face and who entertained and excited the crowd.
1 – Ciaran Mc Naughton RIP. The most laid-back man I've ever met. He was always cool as a cucumber no matter what the occasion. Nothing seemed to unsettle him. He had a huge poc-out, was safe as houses under a high ball and had unbelievable reflexes as well as being a superb shot stopper.

2 – Aaron Graffin. One of Cushendall's great leaders. Totally focused, driven and has such a will to win. Has come back from a number of serious injuries that would have stopped any normal man in his tracks. Great catcher, tight marker who never gives a forward a minute's peace. Mr. Dependable.
3 – Aidan McAteer. Teak tough no nonscence full back who always went about his business with the minimum of fuss. Did the simple things well and very seldom came off second best.
4 – Sean Delargy. What a competitor. An absolute terrier who never gave up. He was always ultra fit and had pace to burn. A corner forward's worst nightmare.

5 – James McNaughton RIP. Such a stylish, classy hurler who could mix it when it was needed as well. Had a great strike out of defence and was a super long range free taker and an expert from sidelines too. Made the game look easy.
6 – Leonard McKeegan. Small in stature but had the heart of a lion. Regularly got the better of bigger, stronger men. The best player I've ever seen dispossessing someone. His hooks, blocks and flicks were always timed to perfection. Tidy and efficient in all that he did.
7 – Kevin Elliott. His natural talent was off the chart. When he was on form he made the game look utterly effortless. Another great free taker with a huge strike. When he was in the mood he was unplayable and could dictate the game.

8 – Mark McCambridge. A warrior if ever there was one. Always totally committed, played the game hard and fair. The ultimate grafter who often did the dirty work that allowed others to shine. He had some engine and must have covered miles in every game and often weighed in with a score himself.
9 – Terence McNaughton. You could have selected Sambo at wing back or in the forwards but I've picked him in midfield because that is where he won his All Star. What a man under a dropping ball, strong as an ox and with plenty of skill too. Great for long range points and scored some vital goals for club and county.

10 – Danny McNaughton RIP. The most committed, focused and determined hurler I think Cushendall has ever had. A real team player who led by example. He could score points from all angles on his left or his right. An all action player and a great free taker.
11 – Neil McManus. Another player who could have been picked in a number of positions. Has won Championship medals at corner back, centre half, midfield, centre forward and full forward. I previously described him like Roy Of The Rovers in maroon and white. The guy has everything. If you need a goal you send him to the edge of the square. Can score points from anywhere inside 100 yards and is just as likely to make the catch under the crossbar in the final minute when you are two points up. My team captain.
12 – Conor McCambridge. A real class player. He had so much pace and was deadly accurate from play and from frees. He had a great ability to make time and space for himself. The scorer of so many vital Championship goals.

13 – Shane McNaughton. The ultimate maverick. Played the game with total freedom and abandon, the way it should be played. Tried things coaches tell you not to try and that's exactly why I loved watching him. Flair, class and ability in equal measure. A superb forward.
14 – John Carson. Played a lot of hurling as a half forward but I loved seeing him with 14 on his back. He was total box office on the edge of the square. When Jackie was on form he was unstoppable.
15 – Karl McKeegan. Another man who could have been picked in a few positions. A real hardy hurler who knew where the posts were. The drop of the shoulder and the sidestep and he was away. Could score himself and had a great ability for bringing others into the game.

Subs – My five subs are men who came very close and men who could hurl on any team –Alastair McGuile, Aidan Delargy, Declan McKillop, Michael McCambridge and Paddy Walsh
Team Manager – The One and only John McKillop