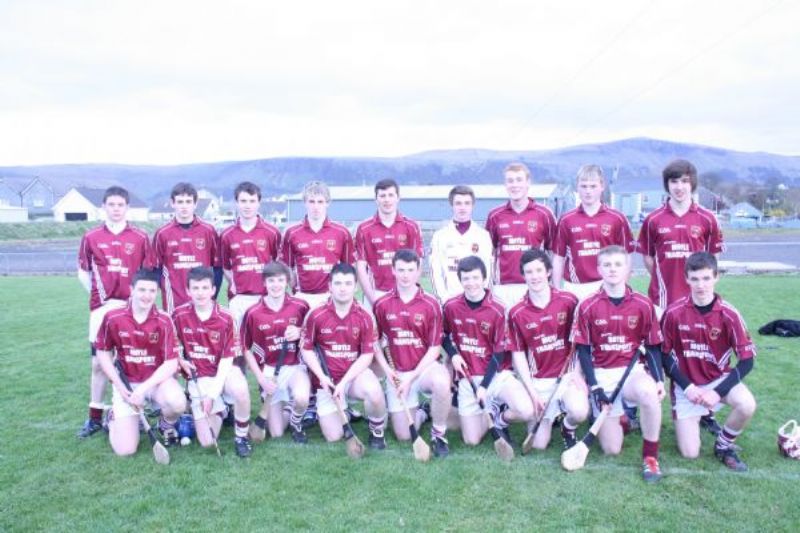 Darragh Cup Wednesday 4th April
Ruairi Ogs 4-18 Shamrocks 0-2
This was the first North Antrim match of the 2012 season for both teams and in truth one which the young shamrocks team will want to forget. Right from the start the Cushendall forwards were causing problems with wing forward Ryan Mc Cambridge knocking a couple of quick points from distance, Conrad Mc Donnell added another two from distance after some great interplay between him and Alex Delargy.


Shamrocks did reply with a couple of points from play and it looked as though they had awoke and briefly began contesting all over the pitch, none more so than Full Back Aaron Carey who was winning everything that came into the square.
The first Ruairi Og goal arrived after 15 mins when Number 14 Paddy Mooney drove the ball to the net which was nearly kept out by the Shamrocks No1. Another goal followed soon after when midfielder Eoghan Campbell soloed through, exchanged hand passes and drove the ball to the Shamrocks net for an outstanding goal. Any chance of a comeback was dead to be truthful and Alex Delargy and Christy Mc Naughton added further points to leave the half time score 2-10 to 0-2.
The second half began as the first on ended with Ruairi Ogs dominating all over the pitch: Mc Donnell, and Mc Cambridge added to their personal tally, sub Cormac Mc Clafferty on for Sean Delargy who departed after a great battle with Meol Connelly netted from a couple of yards after yet another outstanding save from the excellent Shamrocks keeper. The other Ruairi Og midfielder Eoghan Allen not to be out done by this partner scored a great goal driving the ball across the keeper and into the net, when all in the crowd thought it had gone wide, the keeper included.
With Eoghan Campbell and Ryan Mc Cambridge departed, Cormac Mc Alister assumed the free taking duties and put a couple of beauties over from 70 yards, himself along with his fellow half backs Paddy Burke and David Kearney were totally dominating resulting in a totally fustrated Shamrocks attack.
Darren Mc Laughlin added a couple of great points and Alex Delargy who was ghosting all around the forward line to great effect added to the scoreline and when Referee Brendan Mc Sparran blew the long whistle the shamrocks were probably glad. They can put this performance to bed and regroup for the 2nd round next Friday night at home to Cuchullians.
Special mention must go to the Shamrocks keeper who like his counterpart Niall Mc Naughton was as safe as houses all night. I mentioned him earlier but Aaron Carey was simply outstanding for Loughgiel fduring the whole 60 minutes and was their man of the match
Ruairi Og as the score line suggests were on top nearly all over the pitch with too many names to pick out for praise, but special mention goes to the four lads who starred earlier that afternoon for St Killians in their famous Foresters Cup victory over much fancied St Marys. CHB and St Killians capt Paddy Burke, Niall Mc Naughton , and scorer of the winning goal for the north coast school Christy Mc Naughton along with Stephen Walsh again put great performances in. You don't get many days like these lads so enjoy this one - well done!
Isn'it great to have the matches back - its been a long winter!!!!