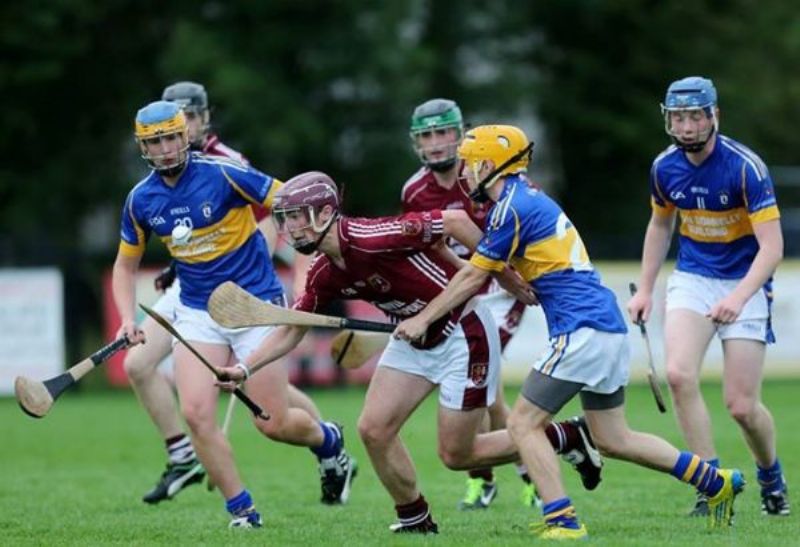 Thank you to Colum Thompson for this report
Picture by: John Mc Ilwaine


Ruairi Og qualified for the final of The Antrim Minor Hurling Championship with an impressive victory over pre-season favourites Rossa. The game was played in Ahoghill in less than perfect conditions with the long grass and heavy rain just before the throw in clearly affecting the game.

Rossa were first to register a score when Sean Shannon converted a free from 35 yards. Alex Delargy got Ruairi Og off the mark in the sixth minute when he bagged a point from a tight angle on the right wing. Don Whelan sent a high ball towards Christy Mc Naughton who caught well and finished for an excellent point and Christy repeated the dose three minutes later to leave the score Ruairi Og 0-3 Rossa 0-1 after thirteen minutes. Sean Shannon converted his second free for the Belfast side to leave the minimum between the teams, but Cormac Mc Clafferty gathered a ball and headed for goal, his neat layoff was gathered by Alex Delargy who buried the ball low into the left hand corner of the Rossa net. Rossa looked shell shocked, from the poc out Cushendall moved the ball upfield towards Christy Mc Naughton who, from an almost impossible angle, rounded his man and sent a superb ground stroke high into Rossa's net for Cushendall's second goal in a row. Mc Naughton added a point from a free before Conrad Mc Donnell thumped over a great point from distance. Shannon stopped the rot for Rossa from a free but Ruairi Og were in rampant form and with further points from Alex Delargy, Conrad Mc Donnell and a Christy Mc Naughton free they changed ends with a commanding lead 2-8 to 0-3.
Rossa started the second half well with two converted frees from sharp shooter Shannon which gave their supporters hope of a comeback but this was quickly put to bed when Christy Mc Naughton won the ball, beat his man and finished brilliantly to the net. Again Rossa pushed forward and registered two more converted frees before Aidan Orchin broke out from defence and cracked over their first point from play. Ruairi Og however never panicked, Cormac Mc Allister tagged on a point before sub Pierce Bannon got Ruairi Og's fourth goal after a fine catch and finish. Alex Delargy pointed from play and it was left to that man Christy Mc Naughton to wrap up proceedings with the final two points of the game. Final score at Ahoghill, Ruairi Og 4-12 Rossa 0-8.
How they played: Ruairi Og approached the game expecting a huge challenge from Rossa but it never materialised. Cushendall's ability to get goals at critical stages really left Rossa chasing the game. All six backs played well with Donal O' Hara, Stephen Walsh and Paddy Burke particularly impressive. Captain Cormac Mc Allister put in a strong second half and up front Conrad Mc Donnell and Alex Delargy got vital scores but my man of the match goes to Christy Mc Naughton who registered an impressive 2 goals and 6 points. He provided an excellent outlet for his team, bagged two excellent goals and his free taking in terrible conditions was also top notch.
Team: 1. C Hayden 2. E Mc Manus 3. D O' Hara 4. S Mc Auley 5. S Walsh 6. P Burke 7. R Mc Cambridge 8. C Mc Allister(capt 0-1) 9. D Whelan 10. C Mc Donnell(0-2) 11. J Duffin 12. C Mc Clafferty 13. R Delargy 14. A Delargy(1-3) 15. C Mc Naughton(2-6)