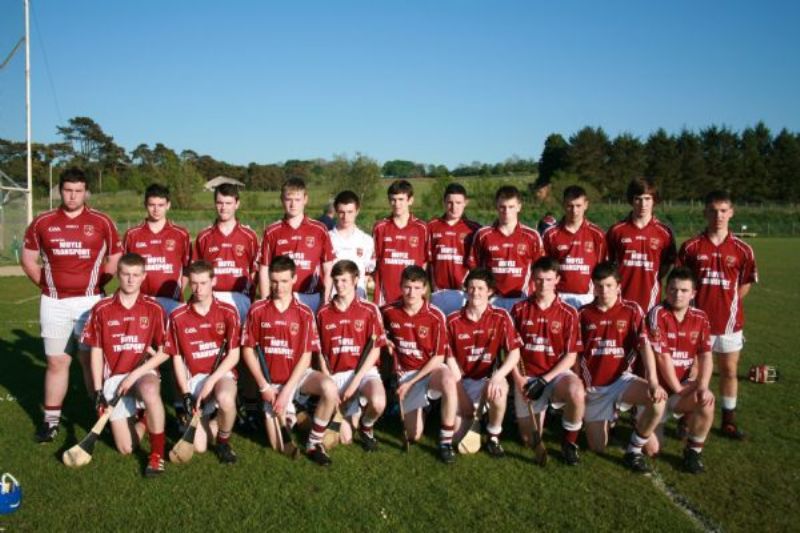 Darragh Cup Final 2012 Friday 25th May in Ballymena
More photos are in the Gallery - thanks to our photographer at the match.
Ruairi Og V St. Enda's
Ruairi Og won The Darragh Cup for the fourth year in a row after an exciting and high scoring game against a strong St. Enda's side who made Cushendall fight all the way. Conrad Mc Donnell started strongly and it was he who registered the first score of the game with a well taken point. John Mc Givern answered back with a St. Enda's free but Ruairi Og were beginning to take control. First Ryan Mc Cambridge gathered a high ball and split the uprights with an excellent finish, then Christy Mc Naughton took over and he converted a free and a 65' to push Cushendall into a 3 point lead after 13 minutes. However in the twinkling of an eye St. Enda's were level when their corner forward finished to the net after evading Eoin Mc Manus.
In the next passage of play Eoghan Allen fed Cormac Mc Clafferty who was fouled near the Enda's goal and referee Thomas Mc Gilligan signaled for a penalty. That man Christy Mc Naughton stepped up and drilled a low shot beyond the Enda's keeper and into the net. From the poc out St. Enda's worked the ball up the field and won a 21 yard free, Nial Mc Givern had goal on his mind and his shot evaded the Dall rear guard and nestled in the bottom right hand corner of the net. Eoghan Allen pointed for the Dall after a strong run but Cormac Ross answered back with a minor for St. Enda's. Then Cushendall really put their foot on the gas, Cormac Mc Clafferty rounded his man and buried the ball high into the net and then Mc Claff turned provider when he sent Christy Mc Naughton through on goal and from 30 yards he made no mistake with a bullet like shot to the net.
Mc Naughton and Ross exchanged points on two occasions and John Mc Givern got another for St. Enda's to leave the score after a rip roaring first half Ruairi Og 3-7 St. Enda's 2-5.
Christy Mc Naughton from a free and Ryan Mc Cambridge from play extended Cushendall's lead to 7 points but any notions that Ruairi Og had that the game was over were quickly put to bed. St. Enda's number 15 finished a goal mouth scramble to the net to really put the game back in the melting pot. John Mc Givern from distance and Nial Mc Givern from the 21 yard line converted frees and it was game on. Cushendall sprung team captain Eoghan Campbell, who had been unable to start the game due to injury, from the bench along with Joe Mc Curry and both men made an impact. First Campbell won a free which Christy Mc Naughton converted. John Mc Givern tapped over another placed ball for St. Enda's and then Eoghan Campbell tapped over a neat point from his corner forward berth.
Then came the decisive score of the game, Alex Delargy sent Christy Mc Naughton through on goal and despite being pushed wide by the Enda's defence Christy sent a great ground stroke across the keeper and into the net. St. Enda's never gave up, John Mc Givern converted another couple of frees but Ruairi Og really had the wind in their sails and over the final 10 minutes they played some fantastic hurling, Christy Mc Naughton(0-3) Alex Delargy, Ryan Mc Cambridge, Eoghan Allen and Cormac Mc Alister, who sent over the score of the game with a booming strike from just inside his own half, put the icing on the cake for Cushendall. Final score Cushendall4-18 St. Enda's 3-10.
How they played:
This was a determined performance from Ruairi Og who, despite St. Enda's throwing everything but the kitchen sink at them, never let anything get to them and stayed focused on the task in hand. At the back Ciaran Mc Alister and Paddy Burke worked hard, David Kearney was the pick of the midfielders and up front all 6 forwards registered scores with Christy Mc Naughton particularly impressive, finishing the game with a super tally of 3-10. However my man of the match goes to Cormac Mc Alister who gave a great account of himself, especially in the early stages of the second half when St. Enda's were really pushing hard. Credit also must go to Karl Mc Keegan and his management team, when introduced Eoghan Campbell and Joe Mc Curry certainly made a difference and the decision to move Cormac Mc Clafferty to midfield for the final 15 minutes also paid off.
Team: 1. Niall Mc Naughton 2. Eoin Mc Manus 3. Fergal Mc Killop 4. Ciaran Mc Alister 5. Stephen Walsh 6. Paddy Burke 7. Cormac Mc Alister(0-1) 8. David Kearney 9. Darren Mc Laughlin 10. Conrad Mc Donnell(0-1) 11. Ryan Mc Cambridge(0-3) 12. Alex Delargy(0-1) 13. Cormac Mc Clafferty(1-0) 14. Christy Mc Naughton(3-10) 15. Eoghan Allen(0-2)
Subs used: Eoghan Campbell(0-1 capt) Joe Mc Curry.