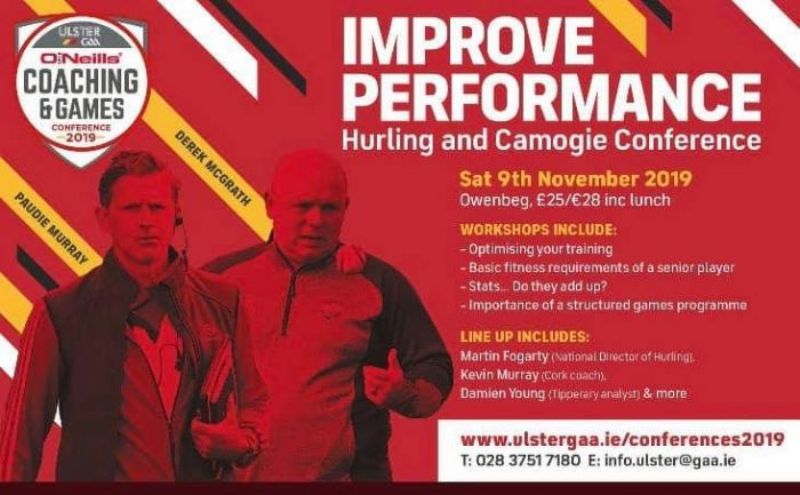 We are proud to have 15 volunteers, (Coaches, First Aiders and Club Officers) registered for the 16th O'Neill's Ulster GAA Coaching and Games Development Conference on Saturday 9th November at the Derry GAA Centre, Owenbeg.
The theme of this year's conference will focus on 'Developing Hurling and Camogie Performance.'
The format of the conference will take a new look in 2019, with two on-pitch practical sessions being delivered on how to optimise your training to make your team more effective. This will be followed by a discussion with the coaches – Derek McGrath, Paudie Murray and Kevin Murray – on the breakdown of their session.
There will also be a number of workshops and presentations with plenty of interesting takeaways for all involved.
Practical Session – How to optimise your training to make your team more effective' – Paudie Murray and Kevin Murray (Camogie, Cork Manager and Coach) then Derek McGrath (Hurling, former Waterford manger)
Workshop – Basic fitness requirements of a senior player (dealing with multiple workloads) – Eoin McNicholl (Ulster GAA Sports Science Officer)
Workshop – Stats…Do they add up – What should club Coaches focus on? – Damien Young (Tipperary, Performance Analyst)
Presentation – Importance of a structured games programme, linking to bigger picture – Martin Fogarty (National Director of Hurling)
Presentation – Importance of surrounding yourself with good people (Combining the 'Me' and the 'We') – Derek McGrath