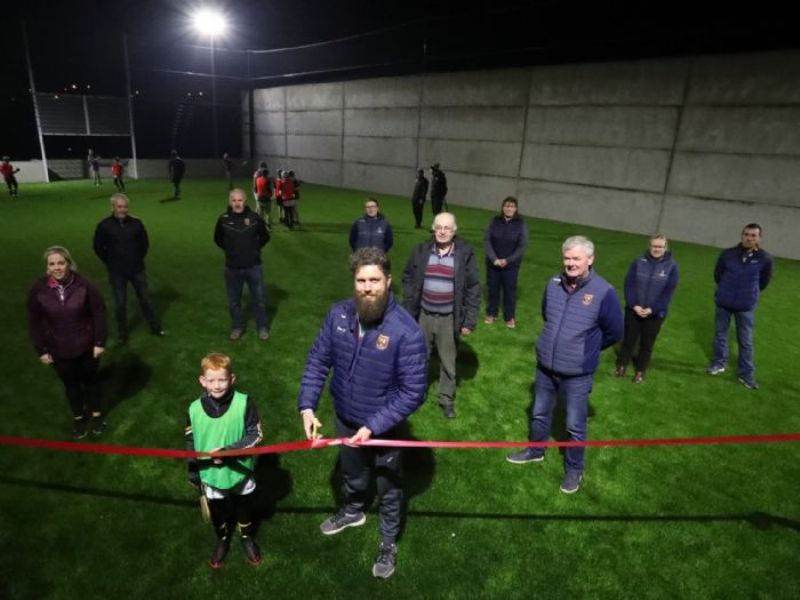 It was with great delight that we opened our completed MUGA and new entrance on last Friday evening, albeit under restricted circumstances due to the ongoing Covid situation. It is a fantastic addition to our facilities and will be a tremendous asset to, not only our club, but our community as a whole. Total cost of the project was £226,000.

We'd like to thank our sub committee of
Aidan McAteer, Paddy Duncan, Adrian McNaughton and Henry McAlister
who were responsible for the delivery of this project. Many hours were spent in acquiring the grant aid to fund the project to the tune of 95% of the tender valuation.

Many thanks also to
Gary McNeill
who volunteered his professional services in the design of the scheme.
We'd like to thank the
Rural Development Program(RDP)
who delivered the funding program and thanks to our grant funders;
DAERA
(75%) and
Causeway Coast and Glens Council
(20%) without whose financial support this development would not have been possible.
Many thanks to
all the groups within and outside of our community
who gave letters in support and to anyone who helped us in any way in the delivery of the project.
Thanks to our main contractor
McAvoys Construction
for delivering a scheme of high quality in the midst of very challenging times.
And finally to
the members of our community
who continue to wholeheartedly support Ruairi Og. We can't thank you enough. Hopefully when the time is right we can have an official opening day where we can invite along our funders, club members and the community as a whole but until then, we hope and trust that you are all staying safe and well as we look forward to better times ahead.